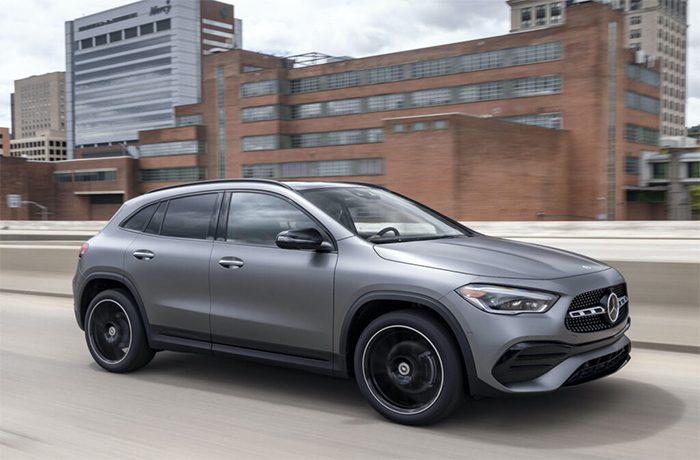 Experienced by Kimatni D. Rawlins
The new GLA 250 crossover is quite the showoff in a family full of self-reliant, intelligent, and performance-oriented SUVs. The baby baller is the entry point to Mercedes-Benz's (M-B) roster of utilities and seemingly fulfills almost every sensory touchpoint required by today's youthful and digitized customers. It's positioned for people who live adventurously and utilize their rides as sidekicks for exploits. Whether you're navigating through or around inner-city obstacles to make appointments or cruising the outer banks, the GLA 250 will undoubtedly make an ideal companion.
GLA is short, compact, and dynamic. However, the heavily contented cabin is spacious and pretty cozy since the proportions are taller, more comprehensive, and longer than the prior model. The Neva Grey and Black MB-Tex with contrasting AMG Line carbon structure trim excited my wife and kids. They are also always fascinated by the 64-color interior ambient lighting in M-Bs, which allows you to select energetic glows such as Glacier Blue and Jungle Green. A Sporty flat-bottom steering wheel with paddle shifters is familiar territory to other family members. It leaves the impression that the GLA is even more capable than its stats suggest. Metal pedals, rear seats with 7-Stage Inclination and forward/backward mobility, and the $1,500 panorama sunroof add more amenities. And the enticing Mountain Grey Magno matte paint fits the GLA motif well. Though the five circular vents for the dual-zone automatic climate control collectively dominate the smaller instrument panel's fascia, they look and feel better on the interiors of the larger M-Bs such as the E and S-Classes.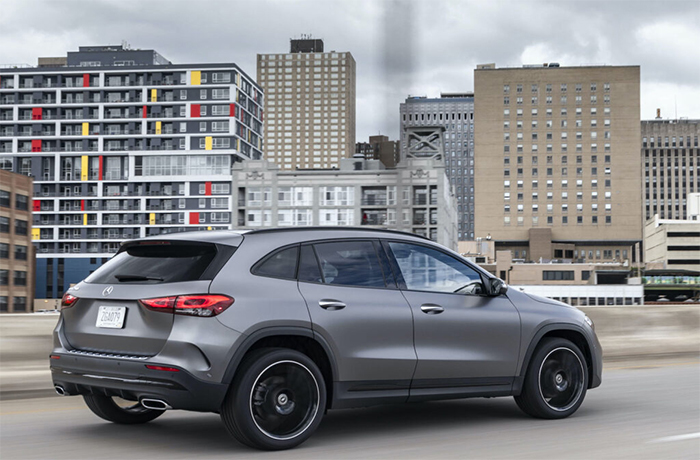 If you haven't taken a look inside of a new M-B, then you may not be aware of some of the evolving technologies that equate them to the advancements of AI. For many, that's spot on, but for some it may present challenges since they would rather stick to what they are accustomed to. That would be knobs and buttons as opposed to sensors, pads, and touchscreens. I'm partial. It truly depends on how the automaker designed and laid out said technologies. In the GLA, you receive the new MBUX (Mercedes-Benz User Experience) infotainment system as part of the $1,295 Multimedia Package and the upgradable $1,750 Premium Package consisting of the joined 10.25" digital instrument cluster and the 10.25" center display. The vast majority of customers will select this package. It's quite intuitive and acts as the conduit to access advancements such as Active Brake Assist, ATTENTION ASSIST, DYNAMIC SELECT, Seat Kinetics, Rearview Camera, etc.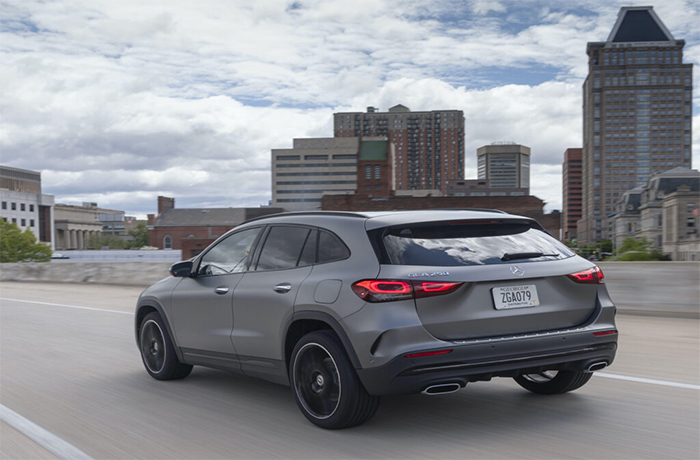 Respectable acceleration and impressive cornering and braking are what I experienced in the GLA 250. It gets down with an efficient turbocharged 2-liter inline-4 engine spitting out 221-horsepower and 258 lb-ft of torque that goes when you engage the newly developed 8G DCT's (dual-clutch transmission) paddles shifters in the essential gear. The optional 19″ AMG 5-spoke wheels (with black accents) are pushed to the corners, so the tracking is precise. Stylish rims sink up concisely with the $2,240 AMG Line Package, which impresses with AMG body styling, perforated front brake discs, and the AMG Diamond-block grille. Expect an impressive 25 city MPG and 34 highway MPG from the FWD GLA 250.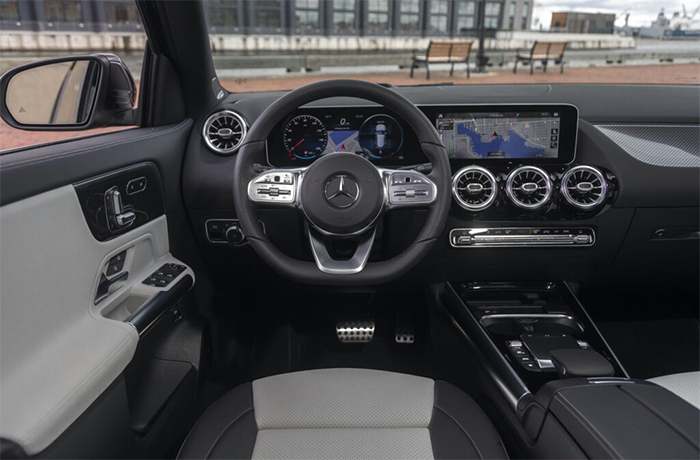 For performance fans, I suggest you administer patience and hold off closer to the end of 2020 for the AMG GLA 35 featuring the new AMG-augmented 2-liter inline-4 turbocharged engine producing 302-horsepower. Or you can up the stakes by selecting the superior AMG GLA 45 powered by the hand-built AMG 2-liter inline-4 turbocharged engine distributing 382-horsepower. With this energy level under the hood, you will become that kid on the block everyone respects and envies simultaneously.
For better peace of mind, customers will be satisfied with the vast array of GLA standard features ranging from safety systems to modern-day conveniences expected in today's digitally-focused drivers. Security features include the rearview camera, LED headlamps and taillamps, Crosswind Assist, integrated fog lights, Mercedes-Benz Emergency Call Service, and Adaptive Braking Technology with Hill-Start Assist and brake HOLD feature. For your well-being, the GLA offers smartphone integration with Apple CarPlay and Android Auto, 8-way power front seats, the new-generation touchpad, a power liftgate, KEYLESS-START, Dual-Zone Climate Control, and of course Cruise Control.
Currently in dealerships, the 2021 GLA 250 starts at $36,230, while the GLA 250 4MATIC goes for $38,230. The loaner provided to me for the 4-day test evaluation was personalized with option packages that brought the total to $48,620, including the $1,050 destination fee. M-B expects 60% of customers to flow with 4MATIC AWD, which introduces the off-road setting.