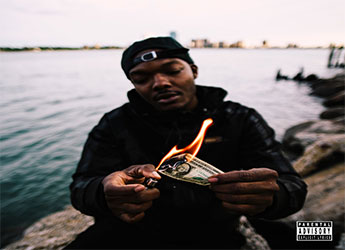 L.A.Z drops off his new EP titled 'No Paperwork'.
"No Paperwork is the soundtrack to being a starving artist in transition, but still moving to the beat of your own drum and keeping it about the music…" – L.A.Z on his new solo release.
After quitting his day job and taking a leap of faith into his music career at age 28, Detroit-based lyricist L.A.Z of Clear Soul Forces marinated on his decisions and ended up making some of his most compelling art yet with "No Paperwork". It's the culmination of not only years of grinding and creating, but also the mental peace that comes with realizing money isn't everything.
"The EP is my reminder to myself and my family that you can't put a price tag or a time limit on finding peace of mind," the rapper explains, revealing that he actually burned his last dollar to shoot the No Paperwork cover. It's also a reminder that at the end of the day, it's all about the music for L.A.Z, and he puts his best foot forward in every aspect on the project's six cuts.
That much is evident when you hear the fittingly titled opener, "Celestial Vibes," which kicks things off on a spaced-out and meditative tip. From there, L.A.Z showcases his keen ear for production, while balancing clever wordplay with his well-structured narrative. You pick up on his frustrations and self-realizations throughout the project, particularly on the f*ck-the-world banger, "Optomist" featuring Detroit's GooD Greene. And even when he's getting stoned on lead single "TGI Fried Daze" with Denver's F Dot Lawless, there's the sobering realness to it all.
There's no questioning that L.A.Z took a massive chance in leaving everything behind to focus on his art, and it would have been easy for him to let his frustrations fuel his creative side. But he's instead found an important balance, combining blunted escapism with real-world trials, while emerging through it all as a stronger artist, and a more self aware human being. He's found the peace of mind he was searching for. "No Paperwork" is now available through all major digital retailers and streaming platforms, via Below System Records.