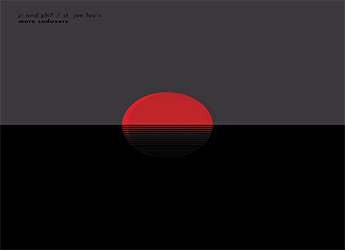 JR & PH7 and St. Joe Louis release the new 'More Cadavers' EP.
After the 'Coral Cadavers' album released in June 2017, JR & PH7 and St. Joe Louis are back with the 'More Cadavers'Â EP.
'More Cadavers' is an even darker set of noir-ish tales set against the seedy backdrop of Los Angeles started in "Coral Cadavers". This EP continues the creative campaign of long-time allied forces, German production duo JR & PH7 with New Jersey MC trio St. Joe Louis. JR & PH7 generate an atmosphere of liquor soaked misunderstandings through off kilter synths and head-nodding drums while St. Joe Louis MCs, Elete Wright, Michael Cardigan and Tommie Chase carve confessions that linger like blood stains.
'Under Pressure' is a show case in the dynamic sound arrangement of JR & PH7 while also displaying the poetic talents of St. Joe Louis. Elete Wright captures the sentiment with lines like "Beautiful Cadavers line the streets of my town / Sorrows made of Coral cross the sphinx like a crown / All my n*ggas ballin' like they screaming out loud / Leaving the halls of sleepy hollow wide awake from the sound."
The added bonus of three instrumentals only highlights the enormous talents involved in this must hear international collaboration.