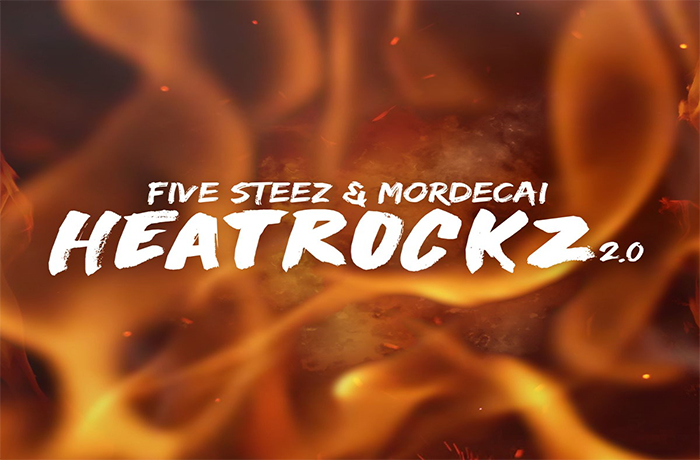 Five Steez and Mordecai release their new "HeatRockz 2.0" EP.
Five Steez and Mordecai have made their new four-track EP HeatRockz 2.0. While the EP is now accessible via Audiomack, Spotify, TIDAL etc, the Bandcamp version features a fifth track as a bonus when purchased.
HeatRockz 2.0, which is Five Steez and Mordecai's sequel to their first EP in 2016, boasts boom bap bangers, made of moody, dusty and atmospheric beats, paired with top-tier rhymes marked by precision and ease. This is the duo's third project, having followed up their introduction with the Love N Art album in 2019.
HeatRockz 2.0 begins with Five Steez establishing himself on the opening song as Commander in Chief before making it clear he's The Vanguard. He takes over on A.B.S. and lets everyone know who is king on U.G.K., the EP's final track.
"The process for HeatRockz 2.0 was the same as before," says Mordecai. "I cooked up a batch of the hottest beats and sent them over for Steez to do his thing." Five Steez says, "The main difference in the approach this time was that I locked in at home because of this pandemic and did most of this project in one weekend."
Bandcamp's recurring Bandcamp Fridays inspired Five Steez to release HeatRockz 2.0 on July 3 to give back to fans who had been supporting on those days. "Bandcamp is a great platform that gives a lot of control to independent acts," says Steez. "I've started to serve the EP from there and people love it so far, but it's time for everyone to be able to listen to it and discover it on the streaming platforms."