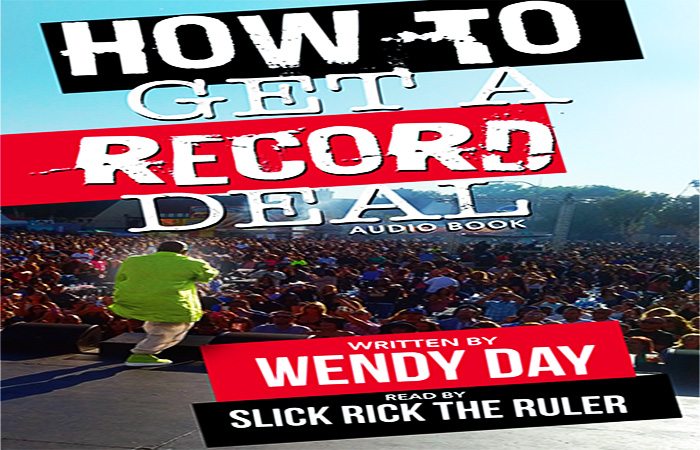 Rap Coalition announces that legendary rapper Slick Rick is the voice of the audiobook edition of HOW TO GET A RECORD DEAL, Wendy Day's sage guidebook for anyone passionate about cracking the hard-to-penetrate music business. The audiobook due for release on Thursday, December 14th is available at www.iwantarecorddeal.com and www.ricktheruler.net.
Day and Rick have been close friends for more than two decades. "When Rick entered the music industry in the late '80s there was no path, so he created one," said Day. "He's still standing strong, and has always been a supporter of my work. His career typifies what I write about in the book: standing out, overcoming setbacks, and becoming a world-class performer."
Rick said, "I'm hard-pressed to express how honored I am to have completed this audiobook with my dear friend, Wendy. She's one of the few people I've trusted in my career, always giving it to me straight, raw and honest, with a generous dose of compassion."
Day's focus in the book is educating rappers, singers, producers and musicians about how to build a career in the music business beyond signing a recording contract (or without the benefit of a label deal in the first place). Slick Rick's trademark British accent delivers no-holds-barred facts and fundamentals Day collected through the years as an advocate for some of the biggest urban and pop stars. He conveys her cutting-edge counsel musicians and managers navigating a dodgy and volatile industry need to heed.
[jwplayer player="1″ mediaid="102524″]
"My goal is to ensure that dreams of fame & fortune don't end up becoming daunting nightmares," said Day, who has shopped and negotiated deals for stars such as Eminem, Master P, Do Or Die, Twista, Boosie, Webbie, BG, Pimp C from UGK, C-Murder, Fiend, Trouble, David Banner, and Young Buck; the music labels No Limit and Cash Money Records, and producers Beats By The Pound.
HOW TO GET A RECORD DEALÂ was first released March 2016 as a digital book available at Amazon and iTunes.
About Slick Rick
Grammy-nominated Slick Rick is "Hip-Hop's Greatest Storyteller." He was originally a member of Doug E. Fresh's Get Fresh Crew, and released four solo albums on Def Jam Records. His music has been sampled and interpolated over 600 times by such artist as Beyonce, Kanye West, Miley Cyrus, Amy Winehouse, Notorious BIG, Nas, Method Man, Mary J Blige and TLC. He is a VH-1 Hip-Hop Honors recipient, and more than a dozen items from his personal collection are part of a collection at the Smithsonian National Museum of African American History and Culture. In April 2016, Rick became a US Citizen after a 20-year immigration battle.
About Wendy Day
Wendy Day founded Rap Coalition in 1992. She has devoted her career to educating and supporting artists, and has helped build some of the biggest stars in urban and pop music. Additionally, she has worked with a veritable who's who of urban music, playing pivotal roles in the careers of Master P, C-Murder, Do Or Die, Twista, Beats By The Pound, Eminem, Cash Money Records, BG, Lil Wayne, Hot Boyz, Juvenile, Boosie, Webbie, David Banner, Fiend, Ras Kass, Young Buck, Trouble, Slick Rick, and many others. Wendy has written for such publications as The Source, AllHipHop.com and Ozone Magazine, and she's been included on the Source Power 30 List twice. Wendy often called upon to speak at universities and industry conferences and conventions. In 2017, Wendy Day will celebrate her 25th Anniversary in the music business.
For more information contact Mandy Aragones @Â slickrickent@aol.com.