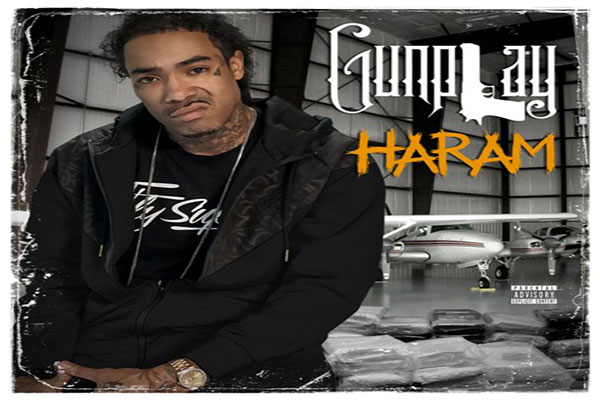 Gunplay is a singular and unique voice in hip-hop. While he started his career as a member of Rick Ross' MMG imprint and hip hop group Triple C's, his unique flair and style; barking out memorable punchlines based on money, murder, and drugs has undeniably helped him carve out his own niche.
After numerous mixtapes Gunplay's debut album on Def Jam, Living Legend, which debuted at #11 on the Billboard hip-hop chart and featured collaborations with Rick Ross, Yo Gotti, YG, Stalley, Curren$y, DJ Mustard & Tyler Woods.
2017 has been a busy year for Gunplay, as he released a collaborative project (Dreadlocks & Headshots) with Mozzy and his second studio album The Plug; and saw both projects rise up the iTunes chart.
With his high octane, high volume and permanent hype delivery, Gunplay is back in your face speaking more truth with his third solo-album Haram.  Referencing forbidden acts and the highest act of prohibition, Gunplay reflects on the dichotomy that exists between survival; and keeping one's conscience and the weight it bears on one's soul. Haram is a raw and authentic street album.  Trap-centric, stacked with internal rhymes, off kilter humor—grimy and real.
Gunplay's Haram album will be released on 9-29-17 by Real Talk Entertainment.
Tracklisting for Gunplay's "Haram":
1.)  "No Brick"
2.)  "On A Daily"
3.)  "Co-Defendant"
4.)  "Tellin"
5.)  "That Eazy" f/ Mozzy
6.)  "Slangin Slabs"
7.)  "Chain Gang"
8.)  "In My Zone"
9.)  "Call Log" (Remix)
10.)  "So Trill"
Gunplay's Haram will be released via Real Talk Entertainment. Real Talk Entertainment is an Independent label with fifteen-years of experience in the record business; with over sixty cataloged records boasting platinum and gold selling artists such as Bizzy Bone, Lil Flip, Chingy, Dead Prez, Devin The Dude, Freeway, AZ, Young Buck, 8Ball & MJG (etc.). In conjunction with Ingrooves, the label will be releasing eighteen projects over the course of 2017; including new projects from Stalley, Krayzie Bone, Young Dro, Dorrough, Mozzy, Gunplay & Gorilla Zoe.