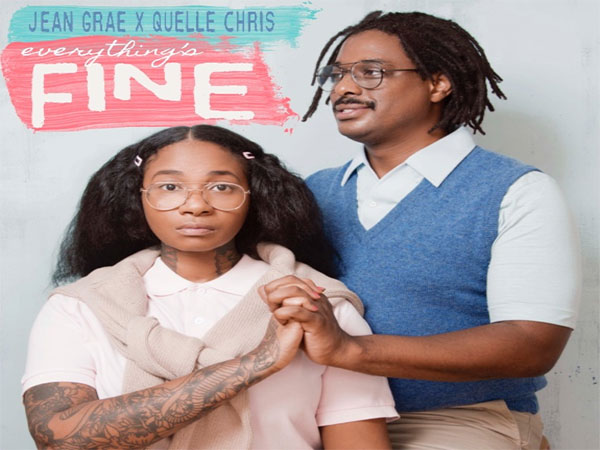 Jean Grae and Quelle Chris announce their new album and release "OhSh" featuring Hannibal Buress.
This morning NPR announced that polymath power couple Jean Grae & Quelle Chrs have a new album titled 'Everything's Fine' coming March 30th.
"Everything's fine."  It's an automated pleasantry.  An emotional shorthand that spares us from unpacking the truth in casual conversation.  But – everything is definitely NOT fine.  Jean Grae and Quelle Chris deliver this message with a deft balance of withering satire, abstractism and knife cuts on their first full-length hip hop album together as longtime creative partners.  As the phrase repeats itself throughout the album it becomes a twisted and empty self-help mantra that's harrowing and often hilarious.  Jean Grae and Quelle Chris are polymath MCs, producers, writers, directors, comedians (and so much more) and 'Everything's Fine' will be released March 30 on Mello Music Group.
'Everything's Fine' features indelible cameos from Denmark Vessey, Grammy Award winner Anna Wise, Your Old Droog and Big Tone, Ashok "Dap" Kondabolu, Michael Che, Nick Offerman, John Hodgeman, Hannibal Burress, a host of guest instrumentalists and more.  It was produced by Quelle Chris and Jean Grae – a gritty, lo-fi and maniacal world in which the album lives.
"We have a dickhead for a president, and before our eyes, racial, religious, and sexual identity rights are moving backwards," says Quelle Chris.  "Money is still a thing (I'm waiting for Star Trek life to start). There's war, your kids may be sick, but if someone randomly asks 'how's it going?' most people will say 'fine.'"
Jean and Quelle host a masterclass in vocal dexterity on 'Everything's Fine.'
The Babadook, Rachmaninoff, Kris Kross, Chris Christie, Omarosa are just a few of the expansive references.  Jean and Quelle effortlessly dance around the beats, relentlessly jabbing and stinging.
"This album is full of our minds. Our hearts. Our love for production, and words. flow and a lot of musicality," Jeans says. "We don't approach topics, issues, writing, or making beats in the same way. I'm harsh, blunt, quick, technical, I arrange classically and play more than I sample. I make joints with 80 tracks. I'm layers upon layers upon layers. Quelle is patient, he's kinder. More loose and minimalistic. He makes sounds work together that shouldn't fucking work. How? I have no idea. These are dreams within dreams."
Jean Grae is a multihyphenate artist whose work integrates music, comedy, and visual media. In addition to collaborations with The Roots, Talib Kweli, and Robert Glasper, the performer, director, soundtrack composer, and writer has released nearly two dozen self-produced and engineered independent albums; her work is even archived in The Yale Anthology of Rap and the Smithsonian National Museum of American History and Culture.  Additional appearances include NPR, 2 Broke Girls, Comedy Central, MSNBC, Vice, BET's Hip Hop Awards, hit podcast Welcome to Night Vale and the Deadpool comic book, where she punched the titular antihero in the face.
Quelle Chris, originally from Detroit and known for his work with Danny Brown and far beyond, is a prolific MC and producer.  He released his 2017 album 'Being You Is Great, I Wish I Could Be You More Often' to acclaim, with the Fader hailing it as "an introspective, funny, and honest rap album that reflects the breadth of the human experience."