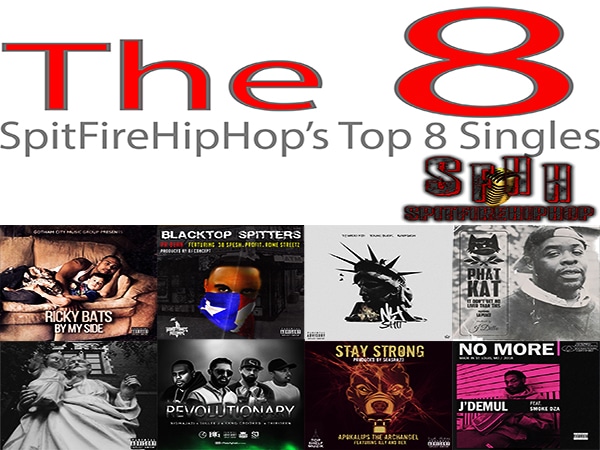 With our Top 8 Singles list, we present the top 8 singles based on our staff picks.
This week our staff has chosen another 8 from June 17 – June 23 . This week's list is led by singles from Ricky Bats, PR Dean and DJ Whoo Kid.
Ricky Bats – By My Side
As a follow-up to his fire "BATS WAVE" mixtape, Ricky BATS delivers again. Gotham City Music Group's Bronx-born independent recording artist, Ricky BATS, gives his loyal fans the first record off his upcoming album titled "Visions Of A Prospect".
PR Dean ft. 38 Spesh, Profit, Rome Streetz – Blacktop Spitters (prod. by DJ Concept)
This is PR Dean first single off his upcoming official album "B.A.S.E." (Bobbitto And Stretch Era) dropping September 2018. The single is called "BlackTop Spitters" featuring Rhyme Specialist Upstate New York Trap King 38 Spesh, along with Western Massachusetts own Profit 1 half of the group CO Defendants and Brooklyn new comer but hard hitting dart spitter Rome Streetz.
DJ Whoo Kid ft. Young Buck & Raekwon – NY Shit
Today we made history with G-Unit and Wu-Tang teaming up on "NY Shit", which was orchestrated by DJ Whoo Kid and features Young Buck and Raekwon.  The single premiered on Hot New Hip Hop and Buck had this to say about it, "NY has always been like my second home, and I wanted to give back to the streets on this one.  Whoo Kid and I went back into our classic mixtape mode for this one."
If you missed the previous week's list, check out the Top 8 Singles here.