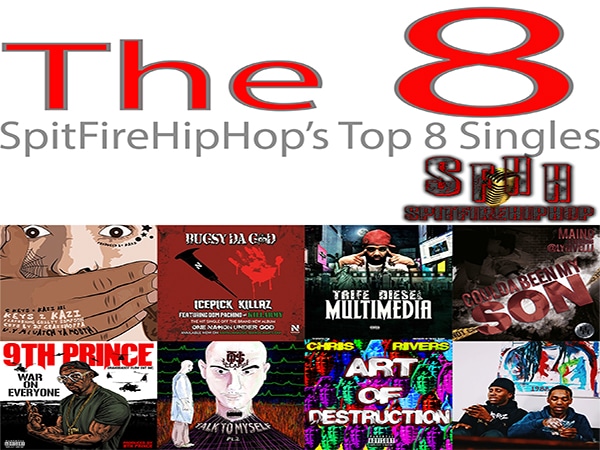 With our Top 8 Singles list, we present the top 8 singles based on our staff picks.
This week our staff has chosen another 8 from June 24 – June 30 . This week's list is led by singles from C Keys & Kazi, Bugsy Da God and Trife Diesel.
C Keys & Kazi ft. Guilty Simpson & DJ Grazzhoppa
"W.Y.M" stand for Watch Ya Mouth, is the second single by C Keys and Kazi's upcoming album "Keys 2 Kazi". Detroit MC Guilty Simpson joins the track as a guest feature and Belgian DJ Grazzhoppa provides the cuts.
C Keys says "When I first got the beat from Kazi, I heard a hard artist featured on it and decided to reach out to Guilty Simpson. 
Bugsy Da God ft. Dom Pachino – Icepick Killaz
Bugsy Da God (disciple of legendary Wu-Tang supergroup – KILLARMY, and protege of one of its lyrical generals, Dom Pachino) returns with a striking third LP titled "One Nation Under God", with the soul purpose to put these weak MCs under pressure. The maturity of his lyrics is evident on this third installment of terror, all while taking the Napalm brand to the next plateau.
Trife Diesel – Multimedia
'Multimedia' is the follow up single off Trife Diesel's upcoming album "Project Pope II". The album is powerful to say the least, the "Tricky Trippz" produced track fuels Trife's well formed bars, which schools our new age "rappers," with scrutiny, and cast easy to follow directions in what it once took to become a respected and unique hip-hop artist.
If you missed the previous week's list, check out the Top 8 Singles here.