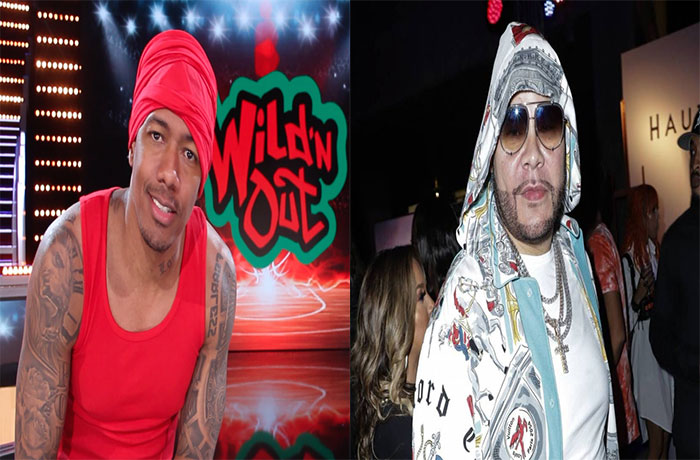 This recent beef between Nick Cannon and Eminem goes back to September when Nick Cannon and T.I. discussed an old situation with Eminem on T.I.'s podcast, ExpediTIously. Eminem responded to comments Nick made about their beef as he fired shots at Mariah Carey and Cannon on his feature on Fat Joe's Family Ties album cut "Lord Above."
Many believe that this dislike between the two goes back to Mariah Carey, whom Eminem dated or had some sort a romantic relationship with. Em addressed this with where he say he tried to tell Nick not to mess with Mariah let alone wife her.
"I know me and Mariah didn't end on a high note/But that other dude's whipped, that pussy got him neutered/Tried to tell him this chick's a nut job before he got his jewels clipped," Eminem raps. "Almost got my caboose kicked, fool, quit, you not gon' do shit/I let her chop my balls off, too 'fore I lost to you, Nick."
On Monday, Cannon fired back with the diss track "The Invitation," which prompted Em to "demand an apology" on Twitter.
Nick Cannon not only did not give an apology, instead released another diss track called "Pray For Him." The time around had some help from The Black Squad from his Wild 'N Out television show.
The Black Squad members, Charlie Clipse, Hitman Holla, Conceited and Prince Eazy take their moments to go at Eminem.
Let's take a look the situation starting with Fat Joe and how beefs used to be handled in Hip-Hop. Fat Joe has this new album dropping and has verses submitting songs for placement on the album. Joe receives the verses and hears the Eminem verse – what goes through his mind?
Does Fat Joe ever think that maybe, just maybe Nick Cannon will take offense to those lines in the song? When artists have features on their albums, they usually listen to the features before the song is officially added to the album, in case there are questions about the verse. For instance, in this case with Eminem's verse.
Did Fat Joe think to himself… that's a fire verse let's see what happens as a result? Many people in the Hip-Hop community believe allowed the verse as a marketing ploy to sell the project. Artists have used many different avenues to promote their albums and bJoe was asked about the verse and said that he loves both Nick Cannon and Eminem. While Fat Joe responded to the question, he did not answer it.
Should Nick Cannon have a problem with Fat Joe for allowing this verse to stay on the record? Why don't we take a look back at the beef with Fat Joe and 50 Cent and also Jadakiss? 50 Cent was in the middle of a beef with Ja Rule and both Fat Joe and Jadakiss jumped on the New York, New York song with Ja Rule.
The beef between 50 Cent and Fat Joe began here as did the 50's beef with Jadakiss. Although 50 Cent was never mentioned any of the artists on this song, 50 Cent had a problem with the three of them.
Do you think Nick Cannon should go at Fat Joe and Dre, with this in mind? Or is Fat Joe the least of Nick's problem now. As a result of Nick's multiple diss records, 50 Cent and Obie Trice have responded in their own way.
Nick Cannon and Eminem appear to be battling over an ex-girlfriend essentially. Mariah must really taste like honey. Let's see where this goes from here.