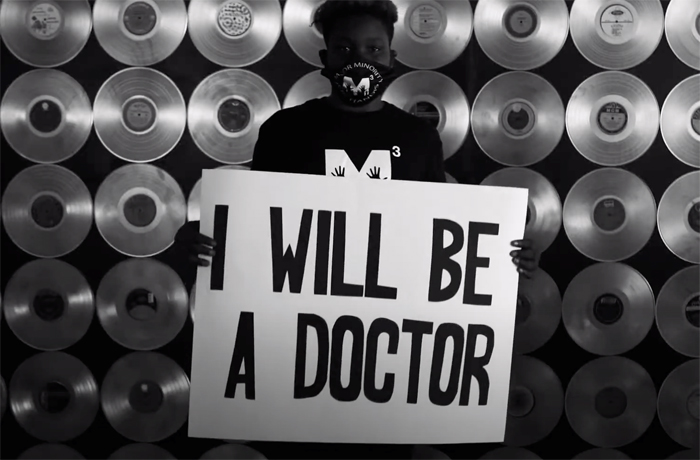 Led by Major Minority Media, young children hailing out of Dallas, TX, paid tribute to Nas singing "I Can" – the positive anthem Nas dropped in 2003. During times of the "Black Lives Matter" movement, Majority Minority Media put together a string of influential videos paying homage to our leaders and strong women of the community. The first one, "I Can" shows children proclaiming they can be lawyers, doctors and much more. The promos support a new clothing line dedicated to enforcing positive black imagery.
Link to buy: www.m3major.com

Founded by Michael Byars in 2018, Major Minority Media, LLC is a source of empowerment and enrichment for people of color, the disenfranchised, and those in need of uplifting. M3 aims to implement confidence, power, and beauty through three branches of business – which are media, merchandise, and motivation. Byars began his career playing professional basketball, but his talents have extended from an athlete to radio broadcasting, film production, and this new all encompassing media venture. His Majority Minority Media company is a one stop shop for production, retail, and creative projects.
In 2019, M3 released Byar's debut documentary, 5700 Ramey Ave: The Story of Robert Hughes, in his hometown of Dallas/Fort Worth, TX. The short film spawned a national press frenzy and locally it sold out. Now, he's ready to press play on another area of focus, within his company, Major Minority Media. Today, marks the launch of his merchandise line. M3 chose to go in the direction of merchandise because it's a simple and non-painful way of expression. The company believes a retail line is a creative way to spread the message of empowerment and enrichment, in an artistic and edgy way.
Majority Majority Media's goal is to spearhead a movement that ultimately leads to the brand being a household name. Later in 2020, merchandise will operate through e-commerce as well as a mobile retail store. Artistically, Colin Kaepernick's brand is their ultimate inspiration. The images for t-shirts are cloaked in graphic art showcasing black excellence and greatness. The 3M's in Major Minority Media actually are a representation of Mike Byars' heroes, Martin Luther King, Malcolm X, and Marcus Garvey. Byar's has always felt passionate about uplifting the African American community, but during this heightened climate of civil unrest and social injustice, he feels more driven to uplift, enrich and empower the African American community through media, merchandise and motivation. 
To learn more about Major Minority Media and to purchase online visit www.m3major.com.
For interviews and cross promotional opportunities contact: [email protected]