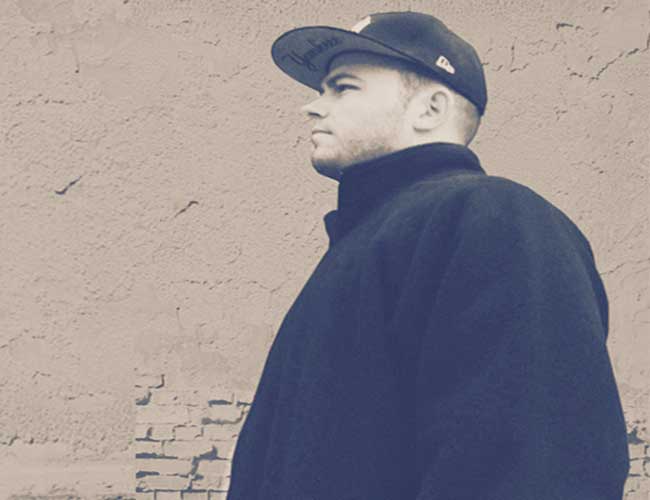 Who is Jakk Wonders? We first learned about Jakk Wonders through MC WhiteOwl. The South African producer has really done his homework when it comes to Hip-Hop and the production of boom bap. The Johannesburg dares to create authentic Hip-Hop music. His attention to detail shows through the tracks that he creates.
SFHH:Â The record you did with MC WhiteOwl is a banger. How did you connect with MC WhiteOwl?
Jakk Wonders: First off thank you for the interview, I always appreciate when you guys post my music on your site so big up on that.
I have to thank MC WhiteOwl for getting me on to SpitFireHipHop 'cause it was our single "Pickle Juice" that got featured on your site back in June '16. Speaking of Owl, we were brought together by DJ Eclipse who both of us know and it so happened that back in February 2016 before "The Half-Time Show" came to an end, Owl was a guest in studio one night and Eclipse had one of my beat tapes with him and he put on a beat of mine for Owl to freestyle over and after Owl heard it, he asked Eclipse who's beat that was and so through twitter, Eclipse let me know that Owl had rhymed over one of my beats and basically that was the start of me and WhiteOwl working together. A week later Owl hit me up and said let's work, so that very night I did the beat for "Pickle Juice", which Eclipse liked as well and premiered it on Rap Is Outta Control. So a huge thank you and shout out to Eclipse and WhiteOwl.
SFHH: Not a problem at all. You seem to be very busy working with may artists. What are you currently working on?
Jakk Wonders: Just recently I put out my latest instrumental project "Peace II Brooklyn" which is a 10 track virtual journey through BK. Now keep in mind I'm from Johannesburg and have never set foot in NY or even the US for that matter (I am looking to hopefully get out there in the next 12 months) but making beat tapes dedicated to specific cities, regions or towns is one of my favorite themes when going in to creating instrumental projects. Its something I'm proud of and am the only one (I know of) that does that type of theme when it comes to any project for that matter.
SFHH: How did you decide on the title of the project?
Jakk Wonders: The title itself was actually just said in passing while watching the movie "Morris From America". The movie kicks off with actor Craig Robinson trying to sell his son on to some classic Jeru The Damaja and obviously his son in the movie is having none of it… but I remember just nodding my head as the beat was going in and listening to that classic sound that I had fallen in love with all those years back and my mind was just filled with images and sounds of various Brooklyn based artists and wanted to give respect to all those who come from the iconic borough.  My first reaction was "damn, peace to Brooklyn for that…" and so it just stuck and I wanted to stylize it like "Menace II Society' so it therefore became "Peace II Brooklyn".  So in theory I can therefore thank Craig Robinson for helping me come up with the title hahaha!!
SFHH: You have been busy this year. What is one of the highlights thus far?
Jakk Wonders: Definitely one of the highlights of 2016 is the upcoming EP by Aliano and me on Ill Adrenaline Records which is scheduled to drop sometime within the final quarter. The link up between Aliano was unexpected because he had recorded a track over one of my beats that I had put out in 2015 and he sent it to me to just let me know that he was feeling my beats and was planning on putting out a small project with a collection of my past beats. I heard the 'demo' he sent me which was the track "Touch The Canvas" and I was blown away, it was so dope so I contacted him and we made plans to do another custom track which was called "Word Up".
SFHH: We are very familiar with Ill Adrenaline Records. How did you find them..or did they find you?
Jakk Wonders: Going back to late 2011 I was introduced to Ill Adrenaline Records at that time by Boston producer Confidence who I had spent time with going back and forth with over e-mail about beats and just getting his input and advise over chopping samples. That in itself was crazy cause back then Rashad & Confidence had just dropped "The Element of Surprise" on Ill Adrenaline and that was such a classic album from start to finish. That's what lead to Confidence mentioning me to the Ill Adrenaline Records co-founder and I've been a fan of the label ever since and its only fitting to have a project put out on their imprint.
SFHH:Â  Have you signed with Ill Adrenaline or are you only working with artists on their label?
Jakk Wonders: Actually we have a 2 project deal with Ill Adrenaline which includes this upcoming EP with Aliano called "Wonderfull World" and then a full length with Aliano to drop in 2017 which is going to be dope. There are a ton of amazingly talented people who we getting for that one like Reks, DJ Eclipse, Ruste Juxx, Snowgoons DJ (DJ X-Rated) and a few more, so stay tuned for both releases and much love and respect to Ill Adrenaline and Aliano.
SFHH:Â That is a nice list of artists that you mentioned. Do you have anything plans of working with any of them?
Jakk Wonders: Also a huge shout out to Reks who I've had the privilege of working with behind the scenes on a retro cover campaign that lead up to the release of his 10th album 'The Greatest X'.  One of my favorite emcees and have been a fan since "25th Hour" so it was a dope experience to go back and forth on ideas for covers.  So def some dope concepts and works in progress with me and Reks  to come in the future.
SFHH: What should people look out for now?
Jakk Wonders: So in closing, definitely keeping busy with the full length LP in the works with Aliano, a bunch of beat tapes scheduled a possible compilation project with some of my previous work and projects/singles here and there with various artists such as M-Dot, MC WhiteOwl, Price Stylez, Ice Grill, AWKWORD and a few more.