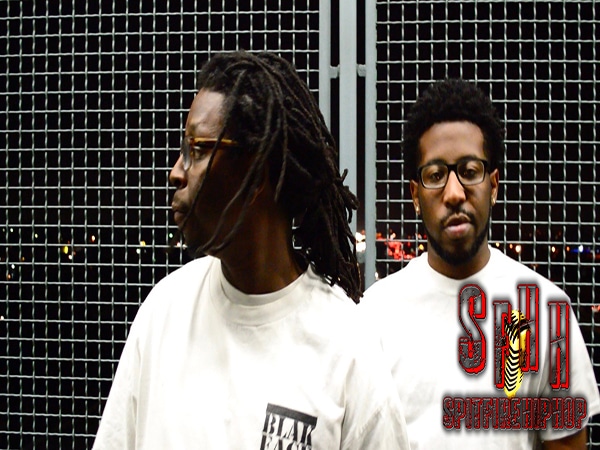 Sincere and Logik are Blakface, presenting the music video for "Heroin", a single from Bamboozled, their new album featuring Planet Asia, Illa J, Poetik Force & Oh. The track was directed by Poetik Force and produced by Eclectic. Their previous work includes "Humble Pie, Pt. 1", a two-part series.
Sincere representing South Bend, Indiana and Logik hailing from West Covina, California, the duo are cousins, and each are emcees and producers in their own right. Blakface has collaborated with Planet Asia, Illa J, Guilty Simpson. When asked about the inspiration behind their release, they said, "The song is about the war on drugs in America and how it's not only affecting our community but how it directly effects our family.
One day Eclectic came by the studio and before he played me the beat, Eclectic told me he was watching a movie called Sugar Hill and in a particular scene they show the main actors father dying of a drug overdose so he wanted to make something to match, as if we were redoing the score of the movie. So we just built on that scenario, put into words and try to give people an understanding of our reality."
Do you think there's a noticeable difference in rap style between Indiana and California? Can you describe it?
$in: Yes and no. Indiana is a melting pot just like California but most of the artists that are local or have any sort of name for themselves in Indiana or either categorized as gangster rap or trap. In California you hear more of a range of famous artists from YG to Kendrick.
That was one of the things that made me go to California and link with my cousin. It was more possible or accepted to make the type of music we wanted to make then it was where I was from. In my city in particular nobody was doing the type of music I was doing back in 2008.
What song of yours do you guys recommend people listen to first and why? 
$in: It would be a tie between my 2 favorite songs off the Bamboozled project -"Destiny " and "Heroin" because I feel like the production is amazing. Shout out to Eclectic. Also I feel like those songs are just a great representation of our sound and the direction we are going in from 2018 and beyond.
Will you guys always work primarily as a duo, or are solo careers coming up soon? What other projects can we look forward to? 
$in: We already are about 75 to about 85% done with our next Blakface project. Funklogik has a beat tape he's working on.. I also have a beat tape in the stash I've been waiting to drop.
I've also been messing around with the idea of working on a solo EP since about a year ago but I'm not in a rush for that yet. I've really just been focusing on getting back to making beats and just studying and finding new inspiration.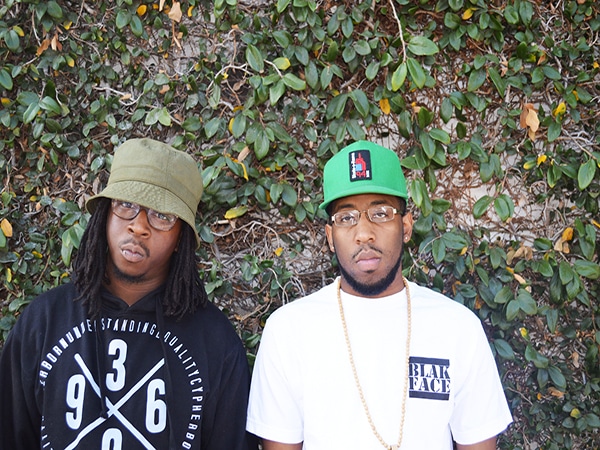 You guys have an impressive list of well-known collaborators. How did you build relationships with the likes of Planet Asia and Guilty Simpson?
Funk Logik: These two relationships in particular happened because of the internet. The power is social media. Guilty Simpson commented on a picture I posted of my grandmother on her birthday so I replied back to him and from then on we connected.
My mom's side of the family is from Detroit. When I was younger we would go visit Detroit every summer so I got mad love for the Motor City. When Guilty hit me up I took it as a sign from God. Planet Asia has been on our collab radar for a while. Promoters here in L.A. would book us to do shows and a couple times we were lucky enough to open up for Planet Asia. He knew a couple of our friends, he didn't know us, but always showed respect.
7 years ago my girl was an intern for him so the seed was planted then. A year or so ago, I was attending school in Hollywood and on my lunch, I bumped into him at a taco spot up the street. A couple weeks later I seen him at a DripLA in Hollywood so I took it as a sign from God, we chopped it up, PA is cool. A couple months went past. We were in the process of finishing Bamboozled. We knew "Less Talking" was a banger and we wanted someone to feature on it.
I sent PA my number on Instagram, he hit us back, and it was on from there. Much love to everyone who has ever collaborated with us, it's a true honor to be respected by the people we look up to.
What's your process for conceptualizing, writing and recording songs, being so far away from each other?
Funk Logik: Let me start by saying, we definitely have our own individuality but the process is in our DNA. Meaning we are kinda wired the same. We like the same food, we like the same video games, we like the same music, and to keep it funky with you, in our single days we even messed around with the same girls.
We've known each other since we were babies and we've been making music together for over 10 years now. So writing, recording, thinking of concepts comes naturally nowadays. Of course there are road blocks along the way, we do disagree, we do have are differences but I'm learning in order to be successful you have to be flexible.
Everything isn't always going to be the perfect situation. We make the proper adjustments and keep it moving. Being organized, having a plan, and having an open line of communication keeps our process simple no matter if we are separate or together.