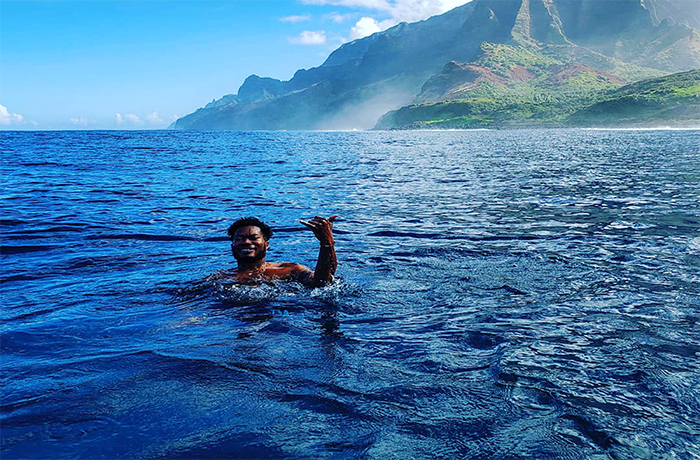 Rapper/producer Starscream the Giant presents the music video for his new self-produced single "Trunk Peeled Back", directed by himself and Vasin Douglas. Bred between Austin, TX and Washington, DC, but currently residing in Seattle, Starscream's last album was Dope Ballads On Mount Pleasant.
The album which featured guest appearances from BIGBABYGUCCI (stream "Tropical" on Spotify), EROz and Marcus Riley, as well as production from DJ Smooth Operator, ZYXO and Valibeats. Starscream's first full-length was his 2016 mixtape Come Thru, It's Lit (stream "White Bronco" on Spotify).
"I had this beat sitting around on my laptop for a while," Starscream says. "I made it for this local rapper but he kept flaking when it came time to pay for the beat. One night, after a few too many drinks, I just started writing and recording and what I was feeling at the moment."
How have you been handling the myriad challenges of 2020 so far?
Well 2020 has definitely been a challenging year so far. Due to the pandemic I've mostly been staying in and making new music (just dropped a new music video and have a finished EP that I'm planning to release in the near future), so from that standpoint it's been fairly productive. It does seem like the George Floyd/BLM protests have generated an increased level of awareness around police brutality and racism in the US. I went to a rally in Seattle and the diversity there, in terms of not only race, but also gender and age, makes me optimistic that the BLM movement will be able to keep up momentum and force change at a legislative level. 
Austin is fertile ground for artists of all kinds. How do you think it most left its mark on you as an artist?
Growing up in Austin (the "Live Music Capital of the World") I was exposed to lots of  different genres of music, which has led to me being very open to experimenting with different genres and sounds in my music. As someone who not only writes but also produces most of my music, I think it keeps things fresh when you can make an album that uses heavy metal type instrumentation on one track and blues on another, but fuse all that through a hiphop lens.  
What's a life motto you try to live by?
As Drake once said, YOLO. I'm being facetious but I do actually think "you only, live once" is a pretty good way to live. You only have one chance at this life so you can't wait around hoping to one day try the things you want to do, you've got to just go out and do them. Carpe diem as the Romans say. 
What's the current situation with Moneyhill Gang?
We're not working on anything new at the moment and the pandemic has complicated getting in the same room. That being said, our last album, "Spirit Animal," was mostly written and recorded over 3 days so whenever we're able to get back in the studio together I expect we'll crank out some new tunes pretty fast.
Who do you think will win in November? How do you think that will affect the country going forward?
My money, and sanity, is on Joe Biden so let's hope he pulls it off. Biden isn't my ideal candidate but pretty much any reasonable politician is better than Trump. Regardless of what happens it seems like the country is unhappy with the status quo; due to that I think we'll see a greater amount of "revolutionary/socially-aware" type songs, both in hip hop specifically and music as a whole. Hopefully, the art that comes out over the next year or so is able to continue to drive social change around things like BLM etc. 
[jwplayer player="1″ mediaid="130489″]