Listen to the full album stream of "Basement Chemistry" from Beneficence.
Armed with the true sounds of the golden era, Brick City veteran Beneficence is back with a new album, Basement Chemistry; which is now available via Ill Adrenaline Records.
After a handful of singles, including "When The Sun Comes" featuring Masta Ace, "Digital Warfare" featuring Inspectah Deck and "Anyway It Goes" featuring MC Eiht, Basement Chemistry's formula stays true to the game, official boom-bap, with obscure samples and intricate cuts and Benef drops rejuvenated flows and shares mics with hip-hop's elite lyricists on Basement Chemistry, including Inspectah Deck, Masta Ace, MC Eiht, El Da Sensei, AG, Dres and Chubb Rock among others.  Once again the Artifacts affiliate traps the listener into slick, thought provoking rhymes backed by hard hitting yet soulful production from DJ Spinna, Da Beatminerz, Confidence and L'Orange.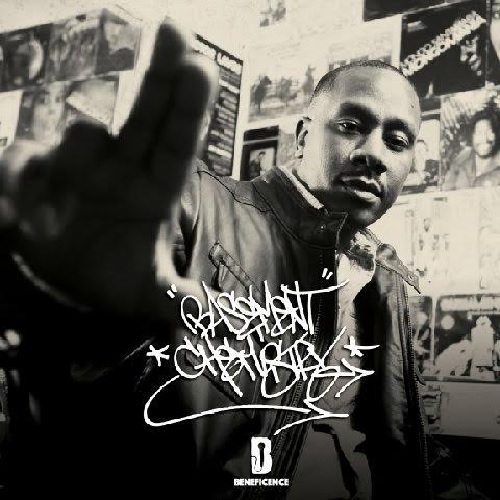 Purchase Beneficence's Basement Chemistry album at iTunes: http://bit.ly/BasementChemistry
Tracklisting For Beneficiance's Basement Chemistry: 
'Intro' (prod. by Sam Brown)
'EZ As 1-2' (prod. by P Original)
'Digital Warfare' feat. Inspectah Deck (of Wu-Tang Clan) (prod. by Ben Hedibi)
'Anyway It Goes' feat. MC Eiht (prod. by KON Sci of MindsOne)
'Wranglers & Asics' (prod. by Confidence)
'Smooth Hardcore' feat. AG (of D.I.T.C.) (prod. by Jazz Spastiks)
'Vibrate the Streets' (prod. by DJ Qvali)
'Maui Vacation' (prod. by Malik Turner)
'Against The Grain' (prod. by Explizit One)
'Forever More' (prod. by 12 Finger Dan)
'When The Sun Comes' feat. Masta Ace (prod. by KON Sci of MindsOne)
'Ghetto Music Rap (We Doin' It)' (prod. by Confidence)
'Blast This $hit!' feat. El Da Sensei (prod. by Da Beatminerz)
'Each One Teach One' feat. Estee Nack (of Tragic Allies) (prod. by DJ Spinna)
'We Got That!' (prod. by Presto)
'Masters Of The Class' feat. Chubb Rock (prod. by Confidence)
'Manuscripts' feat. MindsOne (prod. by L'Orange)
'The Heart' (prod. by Astro Vandalist)
'Make It Hot (Jingle Jangle 2.0)' feat. The Legion & Dres (of Black Sheep) (prod. by The Legion)