Viro The Virus debuts on SpitFireHipHop with his 'Jersey's Finest' remixed album.
During the recording of the Original "Jersey's Finest" Album, VIRO THE VIRUS had made his reputation known as one of the best lyrical MC's in the Tri-State area. Especially in the city of Philadelphia and without any doubt his home state of New Jersey. It was now time to branch out and collaborate with some guest producers and feature some artists to rap alongside the Big V. With "Jersey's Finest," Caliph-NOW naturally took on most of the production. Friends and music colleagues like STRESS, Eyego/Direct, EDK, and Decypher took on producing the rest of the album. A few select MC's who have shared the stage with VIRO by this time and had mutual respect for like Reef the Lost Cauze, Side Effect, Adam 12 and of course VIRO's long time MC partner slim DSM were featured on the album as well. "Jersey's Finest" was finally the complete album that VIRO & Caliph-NOW were waiting for.
JERSEY'S FINEST REMIXED is the fourth of five Remix Projects from the original work of Viro the Virus. Caliph-NOW reached out to close friends, former producers of VIRO, and some new producers to re-release the original "JERSEY'S FINEST" album with all new production. Look forward to each of VIRO's original albums to be Remixed and Released every year on April 20th.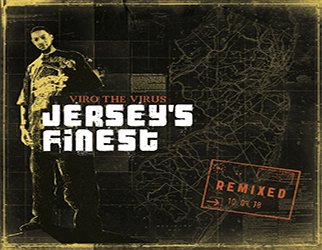 Tracklist
1. Jersey's Finest – Produced By: WILLIE EVANS JR.
2. Up & Down – Produced By: S.T.W.B.
Feat: Rich Quick & Matt McGinley (Gym Class Heroes) on Drums
3. Heaven – Produced By: FEL SWEETENBERG
4. Almost Famous – Produced By: SNOWGOONS
5. Do What I Gotta – Produced By: Caliph-NOW
6. Low Latency – Produced By: S.T.W.B.
Feat: Side Effect
7. Kid U Not – Produced By: PATEN LOCKE
8. Dream Team – Produced By: SNOWGOONS
Feat: Reef The Lost Cauze
9. Shit Face – Produced By: Caliph-NOW
10. Roddy Piper – Produced By: SKIPMODE
Feat: Slim DSM
11. Honesty – Produced By: HEZEKIAH
12. The Rap Up – Produced By: HAJ OF DUMHI
Feat: Adam 12
13. Showtime – Produced By: MR. SONNY JAMES & KUSH SHALIMAR
14. Double Click – Produced By: SKIPMODE
15. Theme Song End