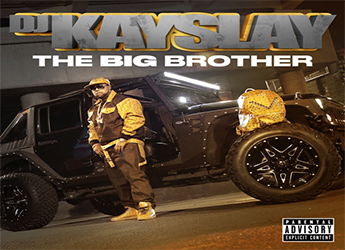 Listen to 'The Big Brother' album from DJ Kay Slay before it drops at midnight.
It's been seven-years since DJ Kay Slay released an album (The Streetsweeper Vol. 1 & The Streetsweeper Vol.2 were both top 10 debuts on Billboard's Hip-Hop Chart).
Similar to Kay's previous red-carpet events, The Big Brother is star-studded and diverse; including Kendrick Lamar, 2 Chainz, Rick Ross, Mac Miller, Kevin Gates, Tech9Ne, The Game, Dave East, Fat Joe, Busta Rhymes, Raekwon, Scarface, Jadakiss, Juicy J, Jay Rock, French Montana, Ice-T, Nipsey Hussle, Beanie Sigel, Freeway, E-40 and many, many others and thanks to Hotnewhiphop, you get a sneak peek at the entire affair before the album is officially released tonight at midnight.
DJ Kay Slay's The Big Brother will be released on 9-22-17 via EMPIRE.
Tracklisting & Credits for DJ Kay Slay's The Big Brother:
Intro f/ The Outlawz (prod. by Trackateering Music)
Jealousy f/ Busta Rhymes, Tech N9ne & The Game (prod. by Trackateering Music)*
Wild One f/ Rick Ross, 2 Chainz & Kevin Gates (prod. by Trackateering Music)*
Lights Glowing f/ Sheek Louch, Styles P & Scarface (prod. by Trackateering Music)+
Super Trick (Skit)
Regulate f/ Jadakiss, Lloyd Banks & Joell Ortiz (prod. by Trackateering Music)
Story Of My Life f/ Papoose, Mysonne & AZ (prod. by Trackateering Music)#
No Regrets f/ Bun B, Fat Joe & McGruff (prod. by Trackateering Music)
Cold Summer f/ Kendrick Lamar, Mac Miller & Kevin Gates (prod. by Streetsweepers Ent. & Ty Sticks)^
Gangster Rhythm f/ Uncle Murda, Trick Trick, Z-Ro & Ra Diggs (prod. by StreetSweepers Ent. & Ty Sticks)
Can't Tell Me Nothing f/ Young Buck, Raekwon & Jay Rock (prod. by Trackateering Music)*
Hip Hop Icons f/ Ice-T & Kool G. Rap (prod. by Twins Productions & Trackateering Music)
It's Harlem f/ Dave East, Ms. Hustle, Vado & Jaquae (prod. by Boogz Bond)
This Is My Culture f/ Ransom, Papoose, Jon Connor & Locksmith (prod. by Trackateering Music)
Respect The Cipher f/ Loaded Lux, Mistah Fab, Termanology, Ms. Hustle, Nicky DS, Oun P & Ras Kass (prod. by Trackateering Music)
A Million Bucks f/ Troy Ave, Nipsey Hussle, Rocko, Vado & Fatman Scoop (prod. by Chris Prythm)
Death, Murder & Mayhem f/ Beanie Sigel, Freeway, Young Chris & Tracey Lee (prod. by Juco Brix)
Coast 2 Coast f/ E-40, 3D Natee & Troy Ave (prod. by Trackateering Music)
Fuk Da Party Up f/ Juicy J, Project Pat, Meet Sims & Ms. Hustle
Stage 2 Haters ( Skit )
Keep Your Eyes Open f/ Maino, Young Buck & Nick Grant (prod. by Trackateering Music)+
Rose Showers f/ French Montana, Dave East & Zoey Dollaz (prod. by Trackateering Music)+
* Hook sung by Meet Sims
+ Hook sung by J-Delice
# Hook sung by Merecco Turner
^ Hook sung by Rell