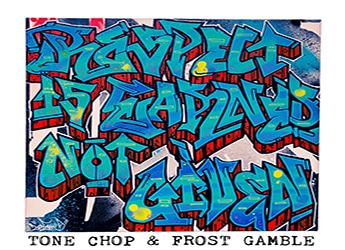 Tone Chop and Frost Gamble drop the new 'Respect Is Earned Not Given' album.
Eastcoast rapper / producer duo Tone Chop and Frost Gamble have released their new album 'Respect Is Earned Not Given' through Miami label 22 Entertainment whose back catalogue includes Royce da 5'9″, DJ Premier, Fashawn, KXNG Crooked, Joe Budden and Bumpy Knuckles.
The follow up to last year's critically acclaimed 'Veteran' EP is again rammed full of rugged rhymes, battle bars and true life stories from Binghamton's lyrical marksman aided and abetted by guest artists Kool G Rap, Planet Asia, Canadian upcomer White Rhino, Tragedy Khadafi and rap battling phenomenon DNA.
Award winning producer Frost laces the album with high calibre beats fusing classic and contemporary sounds with a healthy dose of turntablism resulting in straight heat for the hip hop connoisseur. Look out for their guest appearance on DJ Eclipse's Sirius XM Rap Is Outta Control Show, Monday October 16th.