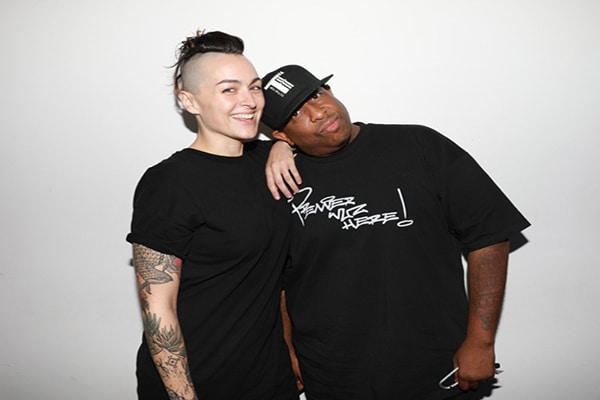 Torii Wolf creates a 'Flow Riiot' with DJ Premier on her debut album.
Torii Wolf has emerged onto the music scene as if she was shot out of a cannon. Thanks to her sultry voice, range and musicality, Torii has enjoyed a precipitous rise.  Leading up to her solo-debut, Torii has already premiered music with Pitchfork, Complex, Pigeons & Planes, Billboard, Genius, Highsnobiety, Mass Appeal, Vibe & Okayplayer and been tapped for Vevo's "dscvr" series (past alumni include Sam Smith, Alessia Cara, Tove Lo, Hozier & DNCE).
With an iconic producer who has a habit of producing and contributing to classic projects manning the boards, Torii Wolf & DJ Premier's forthcoming collaborative union bum-rushes the walls of genres, age and expectations to let the world know a Flow Riiot is upon us.
"Produced By DJ Premier." From Gang Starr, The Notorious B.I.G, Jay-Z, Nas, Dr. Dre, Kanye West, Mos Def, Common, Mac Miller, Snoop Dogg, Cee-Lo Green, The Game, KRS-One, Ludacris, Joey Bada$$ and his most recent vehicle; PRhyme (with Royce 5'9"); over the course of twenty-five trendsetting years, those four words have become synonymous with the cornerstone of hip-hop's sound.
However, "Preemo" as he's affectionately known, has always been a conduit for artists of all genres to affix their lyrics to his complex rhythms—D'Angelo, Janet Jackson, Miguel, Anderson .Paak, Lion Babe, Macy Gray, Neneh Cherry, Maroon 5 & Christina Aguilera (which his work won two Grammy's for) to name just a few. Throughout it all; Grammy's, Platinum & Gold plaques, undeniable icon status, Premier has orchestrated a sound that remains a hallmark of positive and advanced music.
While Preem has previously collaborated with fellow iconic female artists, in none of the aforementioned examples has he taken the reigns to not only produce the bulk of the material, but too also serve as executive producer.  With a resume like Premier's it takes a lot to get his attention—and perhaps more importantly; his respect.
Enter Torii Wolf, a singer/songwriter from Wantagh, New York who traded coasts-bouncing around West Coast cities and in doing so enhanced herself artistically; shunning categories, genres, confinement and convention. "Torii has such a weird, wicked style" Premier offers.  "It's just very left field-reminiscent of Bjork.  She is just very unique and versatile; she writes, sings, is an accomplished guitarist and drummer.  But image wise, there are no comparisons.  Subject matter wise, Torii is in a whole different place.  Torii is truly one of a kind."
The diversity of the subject matter that Premier touched on is a staple ingredient on Flow Riiot.  The anthemic lead-single "Free" tackles the battle we face every day to be our authentic selves and a reminder that our freedom comes from within and how we hold the key to how "Free" we really are. "Free" features Flow Riiot's lone-guest, Macklemore, who battles ego, spars bare-knuckle with the devil and trains with God and asserts "as long as I'm me, then you know that I'm free."  Torii's heart pumps cold and warns of impending doom over a virtual digital symphony and scratch chorus from Preem on "Big Big Trouble." Conversely, Torii professes her undying love on "I'd Wait Forever And A Day" as Preem recruits his The Badder Band to add lush instrumentation for a sultry big band ballad that Torii's voice longingly soars over. The stirring Mike Zombie (of Drake's "Started From The Bottom" & OVO fame) produced "Pain Killer" is the audio equivalent of an opioid, replete with Torii's pleas to euthanize her anguish, yet so ultimately stimulating it creates a high you can't stop craving.
Flow Riiot crescendos with an omnipresent vibe, as Premier creates a diverse palette that exquisitely accentuates Torii's vast vocal range, a veritable combination of contemporary and future sounds.  Torii spins out of control over the whirlwind of horns and drum orchestration on "You're Not There" and "Where We Belong." "Shadows Crawl" is quintessential Preem, dirty boom-bap with waves of shimmering piano keys which add further restlessness to Torii's meditation on insomnia and the battle to unplug.
Torii Wolf's debut solo-album, Flow Riiot, will be released on September 29, via DJ Premier's TTT (To The Top) imprint.