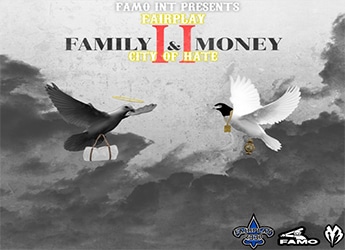 Fairplay is back with the new 'Family and Money 2 (City of Hate)' LP.
Fairplay is a lyrical assassin, using his gritty street tales from the crime ridden streets of Chicago to capivate listeners. He has a penchant for 90's Hip Hop, utilizing the old school mentality with a new school flavor. In the last few months Fairplay has perfected his skills behind the camera, dropping 2 well received visuals in anticipation for his highly anticipated full length Friends, Enemies, Demons & Saints. We really get to know him as a man, friend, and emcee. By the end you'll be rooting for him to make it out of the city.
Fairplay is also family man, and has just dropped his second compilation tape Family and Money 2 (City of Hate). While Fairplay makes up the bulk of the tape, he enlists features from his crew that has created a grass-roots movement in Chicago.
At 14 tracks it's a perfect introduction to the MC, full of his wit, creativity, and of course lyrical genius. The mixtape title says it all, as Fairplay isn't afraid to speak candidly about the atrocities in the city.