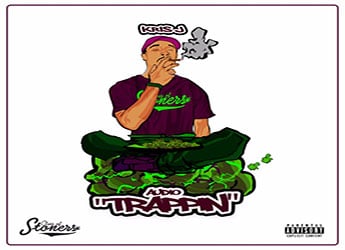 Kris J is back with his new project titled 'Audio Trappin'.
You can't list the next up out of Atlanta without including Kris J. The stoner anthems from the rapper have gained him a loyal following that appreciates his lyricism and love of marijuana.
This year he's consistently created buzz after releasing fire singles and videos such as "Blue Magic" and his latest single "Bad Habits" with Cool Club's Jay Dot Rain. With the release of his latest project, "Audio Trappin" he has succeeded in raising the bar even higher on what we can expect from the young rapper.
Using audio files from an interview Kris had with the Cash Color Cannabis podcast, the eight tracks are weaved together with two interludes moving from the good times to the struggle within Kris' career and personal life.
Track List:
1. Billion Likes (prod. by Super Mario)
2. Tell Me How You Feel feat. Big Sant (prod. by ithinkwegotit)
3. Interlude 1
4. Power Up (prod. by ithinkwegotit)
5. Whole Thang (prod. by ithinkwegotit)
6. I Might (prod. by ithinkwegotit)
7. Skip The Line (prod. by Paramount Beats)
8. Interlude 2
9. Back Then (prod. by ithinkwegotit)
10. Bad Habits feat. Jay Dot Rain (prod. DJ MoneyGreen)