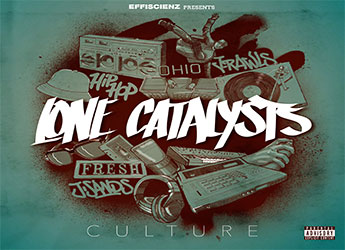 Lone Catalysts has returned with a new album titled 'Culture'.
If you are looking for Hip Hop with substance and a message this album is for you. Lone Catalysts consists of producer J. Rawls from Columbus, Ohio and MC, J Sands from Pittsburgh, PA. The two have released an incredible full-length album.
'Culture' is the name of the new album and as the name says, there is lots of culture in this one. One of my favorites on the album is 'The B-Boy' which features Tony Touch, whom I have been a fan of for a while now. This track gives us the history of B-Boys as Sands and Toca pay homage to one aspect of Hip Hop. Another of my favorites would have to be 'It's A Demo' featuring Jersey's own Artifacts.
This track comes equipped with the scratching that I grew up listening to. A few of the tracks include excerpts of the history of Hip Hop and how the name came to represent a culture. Listen to 'Culture' below and be sure to purchase it and support a great producer and MC in J. Rawls and J Sands.
Visit the bandcamp site here to purchase the album.
Preset with id 0 does not exist!Main playlist with id 557 does not exist!