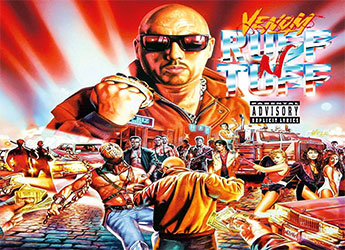 Venom debuts on SpitFireHipHop with his 'Ruff N Tuff' album.
One man, arrived from a foreign land with his Ensoniq ASR-X machine, a challenger ready for action, with something to prove, will have to defeat the toughest opponents in a music tournament. Especially the worst of all: Himself.
"Ruff N Tuff"  is the debut album of the Marvel Records artist Venom, a Producer/Remixer, best known for his production work of the latest Blaq Poet "The Most Dangerous" and Marquee "Femme Fatale" albums. Venom is also half of the production duo Ninjustice with Kyo Itachi.
"Ruff N Tuff" is a true "producer album" in the veins of Eric Sermon's "Insomnia" or Pete Rock's "Soul Survivor", not just a compilation but a project with a deep concept that sounds like no other. It shows a way to use music as a weapon. With impressive production skills, Venom punched the pads with brass knuckles to push his machines to their last limits. Hard hitting drums, samples and razor sharp cuts build the foundation his guests, including Camp Lo, M E D (Stone Throw), Rah Digga, Shabaam Sahdeeq, Ras Kass, Conway, The Legion, Shadez Of Brooklyn, Marquee and Nolan The Ninja, can shine on.
On top of that the cover is hand-painted by the legendary Melki, who did classic movie covers such as Nightmare On Elm Street, Creepshow or Buckaroo Banzai.