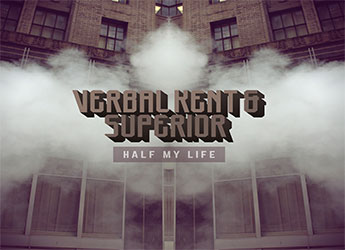 Verbal Kent and Superior release the new 'Half My Life' album.
Chicago wordsmith Verbal Kent (Ugly Heroes) and Spanish-German beat maker Superior have joined forces. The resulting full-length album "Half My Life" is set for release via Below System Records. Known for his mixture of verbal gymnastics with humor and everyday pathos, Verbal Kent delivers what might be among his most personal rhymes.
Speaking on the significance of the album title Kent said "Half My Life signifies the amount of time I've been at this. I started rhyme writing seriously at 18/19 years old and never looked back. I've always felt grounded in my expectations, fame and fortune was never a factor for me. I love making music enough to do it seriously for 20 years now, and I doubt I'll ever be able to stop."
Superior's creative use of psychedelic, rock, soul and funk samples create an eclectic yet cohesive musical backdrop. Some examples of the chemistry include the first single "The Little Things" which is Kent's version of the love joint (see Common's "The Light") but more in Seinfeld territory. Sample lyric "Dr. Kirschenbaum's my dentist and now he's your dentist and that goes for any practitioner of medicines."
Tracks like "Classic Shit" and "For The Love" are deeply biographical tracks while there is also straight quality emceeing tracks including "Go Get The Dank" and "Steven Hawking Walking". Guests that get it in on the album include Vic Spencer, Sonnyjim, Recognize Ali and Lance Ambu.