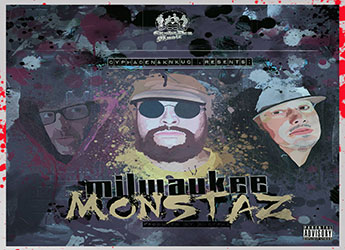 Milwaukee Monstaz drop off their self-titled LP produced by Dcypha.
The eight year in the making self-titled Milwaukee Monstaz album is finally here. For those unaware of who or what the Milwaukee Monstaz are; It's two emcees native of Milwaukee. One goes by the name of Taiyamo Denku, the other by Maximus Da Mantis. The full album has heavy dark and sometimes jazzy production from Aussie producer Dcypha. The album is nicely sprinkled with features that made sense to the feel of the album. Wu Affiliated Cappadonna and Shabazz the Disciple are just two that come to mind.
But don't get lost in the striking features of the project as you should with the vibe and feel of the album as a whole. Denku & Maximus are two very bar-heavy emcees who don't let you get stuck on one song or the other, but make you want to listen to the whole album to see what comes next. So give Milwaukee Monstaz Self titled album a listen and continue to follow the CyphaDen Music movement on into 2018.