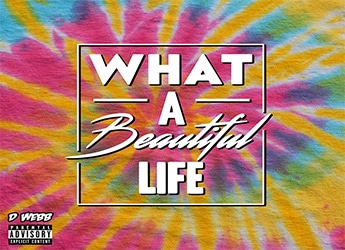 D WEBB drops off his new 'What A Beautiful Life' album.
Hailing from Peoria, IL, hip-hop artist, graphic designer and founder of No Chasers Clothing, D WEBB debuts his first solo album titled 'What A Beautiful Life'. Featuring collaborations with Mac Lethal, Dubxx, and Bree Michelle, this 10-track project takes you on a journey through D WEBB's mind as he paints a vivid image with precise lyrics and unique forms of storytelling.
Each record is carefully crafted to have it's own style and characteristics while flowing together sonically, bouncing from old-school hip-hop to urban hip-hop, to variations of trap, plus a touch of R&B and more.