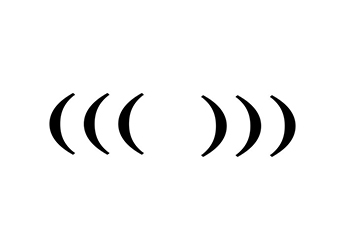 MC Paul Barman drops his new '(((Echo Chamber)))' album.
Back in 2000 Prince Paul introduced the world to MC Paul Barman when he produced Paul's debut EP It's Very Stimulating.  Next Masta Ace gave Paul a starring role on his classic album Disposable Arts.  Paul's one of a kind style and complex rhyme schemes made him one of the most unique voices of the early aughts.
Fast forward to 2018, Paul is working in NYC, married, 2 children, and it turns out, still obsessed with pushing his rhyming to another level.  Not to mention MC PAUL BARMAN has a new album with some of the greatest producers to ever live: Questlove, Prince Paul, Memory Man, Kenny Segal, Mark Ronson, MF DOOM.  Oh, and Open Mike Eagle shows up for two tracks. Plus Masta Ace on one of the best collaborations the pair has ever had.
The album is 16 tracks brilliant tracks that question everything from if the children of America should slit the throats of their adult overlords (yes)Â to what the holy book is really saying. Add to it a nearly 7 minute opus over a Questlove beat on Meat N Bone that takes you from birth to death and through decomposition. But the real display comes on the albums only non ((( ))) bound track UNDOING ALONENESS which is for those who take lyrical displays beyond seriously:
"I'm ill as the '94 crime bill but time will tell more than any rhyme skill. (((he's ill))) I'm triple o.g. like ogogog. Gog Magog, it's dog eat dog. I'm in a twelve gallon hat with a ten inch brim, bowl of bi bim bop while Boom Bip spins Bim Skala Bim."
(((Echo Chamber))) is about escaping –
limits, society, politics, education, preconceived notions, fear and loneliness.