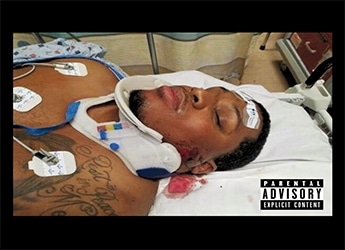 Scott G makes his debut on SpitFireHipHop with his 'Look At God' LP.
Queens, New York is known for it's breed of emcees who posses the highest level of skill when telling their stories over beats. Enter Scott G a.k.a. Scott Gesus a member of Sean Strange's Nah Bro Entertainment record label roster. In early 2018 he was working on his debut album "I Am Gesus" when randomly some months back he was shot 3 times and almost killed. One bullet hit his face, Another in his neck and one in his arm.
After a week hospital stay, surgery, and two bullets still in his body, he came home and immediately went in the studio to record a full project in one day. If you ask Scott why he decided to put the "I Am Gesus" album on hold to do this "Look At God" project he will tell you "It was all fueled by the experience of surviving a near death experience in addition to a statement from the nurse who cared for him in the hospital telling him that God saved his life, Not luck". The end result is this project titled "Look At God" which he released on May 25th 2018.