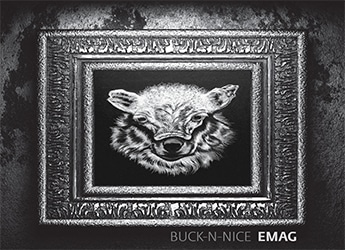 Buck-N-Nice debut on SpitFireHipHop with their 'EMAG' album.
Rapper SawBuck and beat-maker DJ So Nice are Buck-N-Nice — a Canadian up and coming hip hop duo, and Ottawa natives, that do not fit the profile of most artists in the genre. Unlike others, their musical concerns are beyond creating the next club hit, flashing money, or keeping up with the latest trends.
After getting their feet wet with their debut album, they learned from the inside out how backwards the industry is. It's a machine filled with appropriation, shortcuts to success and all-around deception.
This is the theme of EMAG, an album titled so because the GAME is backwards which is broken down to the very last compound on the rock solid album titled single. In addition Buck-N-Nice is joined by Reks on the introspective jewel, "Time".