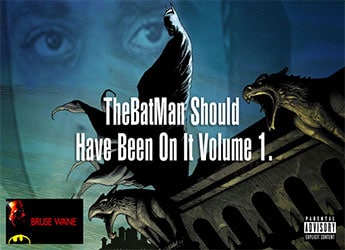 Bruse Wane shares his new 'The Batman Should Have Been On It, Vol. 1' mixtape.
Wane Enterprises CEO and New York artist Bruse Wane presents his new mixtape The Batman Should Have Been On It, Vol. 1, bundled with a visual for his freestyle over the Jungle Brothers' "Straight Out The Jungle" beat. The Batman Should Have Been On It, Vol. 1 is a mixture of original tracks, mixtape cuts and live flows like "BET Freestyle", where he mimics DJ Premier's BET Freestyle sessions . Wane's 2015 single "Venom" featured Chris Rivers, the son of the late Big Pun, as well as the late Sean Price, for whom "88 Freestyle" was intended.
"Sean had previewed some of his stuff to me for Songs In The Key Of Price, so I went into the studio like 'aight, wait till he hears this', but unfortunately he passed away be he did." Bruse has also collaborated with Keith Murray. A native of the Bronxdale Houses Projects in the Soundview section of the Bronx, Bruse founded Wane Enterprises in 2001, hosting events featuring Styles P, Papoose, N.O.R.E, Buckshot and Remy Ma. "You're getting pure Bruse Wane on this, spitting hard bars over classic beats," Bruse says. "No features – just Wane. Letting real heads know I can hold my own on anything put before." Bruse is currently working on his next album The Dark Knight Album Two.. Fight For Gotham.