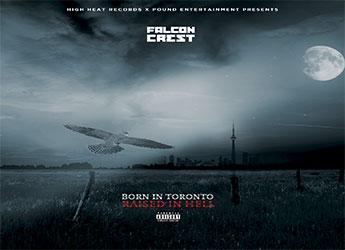 FalconCrest returns with the new 'Born In Toronto Raised In Hell' mixtape.
High Heat Records and Pound Entertainment present to you a cinematic feature from start to finish. We would like to introduce you to FALCONCREST Born In Toronto Raised in Hell. This crime duo takes you on a dark journey through Toronto's underground through sounds that immerse you in the environment. As the two vocalize their life experiences, we get a strong understanding that this dangerous life is not for everybody. Born in Toronto, Raised in Hell gives us a clear view of what it's like growing up in the streets of the city, and doing what you have to do to survive through all the roadblocks. From stories live on the corner block, to graveyard music, and the consequences of injustice actions, they bring us along for the ride.
With flawless production from, Giallo Point, TheRealSkitso, Smokeshopstudio, and more, this project sets the perfect tone for the gritty tales from the FALCONCREST which features the lyrical powerhouse of Daniel Son, Wyze Wonda, Rootz K and Buffalo's own Twistello, giving this project a wide variety of sound. Born in Toronto, Raised in Hell re-emerges the real crime hip hop sound back into the game. This is definitely a project that you will find in every hip-hop fans collection.