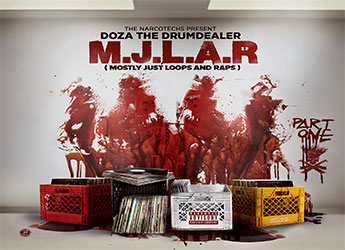 Doza The Drumdealer drops off his new 'M.J.L.A.R' mixtape.
True to the title DOZA goes in on some old school breakbeats and loops and manages to throw some trunk and side view mirror rattling bangers in the mix. Sticking to his usual formula he finds the balance between then and now fusing that heavy 808 knock behind sample driven beats. He shows diversity as an emcee as he provides a different delivery to fit the tone of the song nicely.
He ranges from Laid back and cavalier on MYNDFK and FLIP UP to savagely aggressive on SPRAY BARETTO and COMIGO. Accompanied by D.GOYNZ and the L.E.A.G.U.E. (Crise P, MoBuks, Sha Smif, and General Zodd) he closes out the project with a cypher style posse cut LULLABYE. Listen to 'M.J.L.A.R' below.