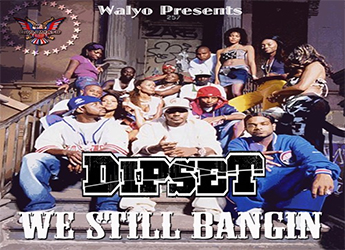 WalyO places his stamp on The Diplomats 'Dipset, We Still Bangin'.
WalyO is back with his recently released Diplomats mixtape "Dipset, We Still Bangin". The project is a mixture of rare and newly formatted chopped verses of your favorite Dipset rappers over a soundscape of sampled beats sure enough to fullfill your ears. WalyO follows the footsteps of well known remix producers Amerigo Gazaway (who is very well known for his Soulmate series albums pairing rappers like Mos Def, De La Soul, Nas and more with the likes of soul lengends, Marvin Gaye, the Dramatics and Fela Kuti) and Tom Caruana (who made waves with his Wu-Tang VS The Beatles album).
WalyO looks to stand out from the others as he takes a different approach to just remixing songs, by chopping up entire verses and or songs and piecing them differently over the beat to create an entire new verse to keep things fresh. And most importantly he puts verses from different songs together.
The 12 track mixtape looks to highlight not only the veteran and legendary crew of Cam and friends, but to also showcase the talents of the CT born producer who has been working in music for over a decade having worked with the likes of Kool G RAp, Max B, Hus Kingpin, Debbie Gibson, Musaliny, Nature, Reks and more.
Related: WalyO & The Diplomats ft. Jay Z & Kanye West – Allstar Game