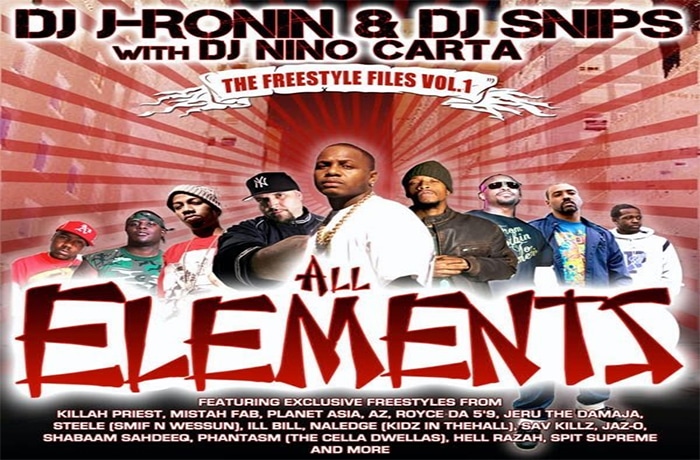 DJ J-Ronin drops 'Freestyle Files Vol.1' mixtape with DJ Snips and DJ Nino Carta.
'Freestyle Files Vol.1′ is a collection of freestyles artists did for the early days of J-Ronin's All Elements mixtape series as well as some exclusives done just for the project. Verses were recorded from 2004-2008 . Artists include Royce Da 5'9, AZ , Jaz-O, Planet Asia, Killah Priest, Hell Razah and Timbo King from Wu-tang.
Also Smif N Wessun's General Steele , Oakland's Mistah Fab, Teflon of MOP, Shabaam Sahdeeq, Ill Bill of Non Phixion / La Coka Nostra . Team Homi's Poison Pen, Strong-arm Steady's Krondon and Phil da agony, Shabazz the Disciple and much much more . Check out a throwback classic from 2009.
More mixtapes from J-Ronin and All Elements will be coming soon. Throwback material as well as brand new albums and mixtapes. Stay in tune with the movement! https://www.instagram.com/jronin82