Royce Da 5'9″Â releases this new single called "Tabernacle."
Very few recording artists have had the luxury of saying that they have maintained a successful career in hip-hop for over 15-years. Even fewer can say they've walked amongst hip-hop's elite while doing so.  Royce Da 5'9" has done both, whether he's trading bars with his partner in rhyme Eminem, or raising the bar with his long-time collaborator DJ Premier in their group, PRhyme.  No matter the vehicle, Ryan Daniel Montgomery a/k/a Royce Da 5'9" has always stayed true to his devotion to impeccable lyricism. Despite his enduring success, in many ways, Royce is just getting started.  Last week, he announced he is releasing Layers, his first solo album in nearly 5-years on April 15th, 2016.  As the title suggests, the album will dive into the many facets of Ryan Montgomery.  As the most personal and introspective music Royce has ever recorded and his first solo project since becoming sober 4-years ago.  Layers represents a new beginning, for the man and the MC.
Now, just days after announcing his new album, via Bad Half Records, Royce releases his first single, "Tabernacle," produced by S1.  Setting the tone for the album, the song tells the story of what Royce calls "the most significant day of his life." The first song he wrote after achieving his sobriety, it details the single day when he had his first son, lost his grandmother in a car accident and met Marshall Mathers; all within a few hours.  The cascade of events led Royce to a newfound sense of spirituality. "Tabernacle" is the first of many aspects of Royce that will be peeled back on Layers and the song is currently available for download as an iTunes insta-grat track.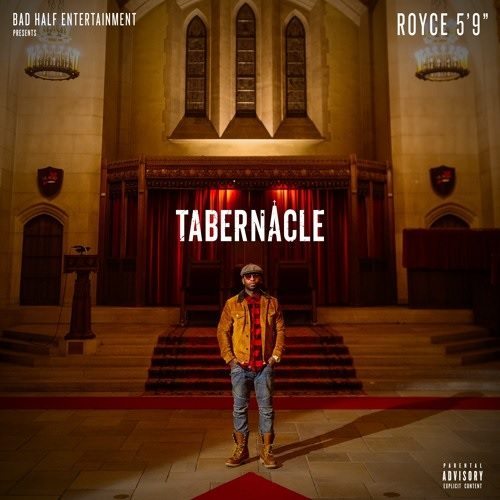 You can pre-order Royce 5'9's new album Layers and receive "Tabernacle" as an insta-grat track upon purchase: http://flyt.it/RoyceLayers
Tracklisting For Royce 5'9"s 'Layers' Album:
1.)    "Tabernacle" (produced by S1)
2.)    "Pray" (produced by Mr. Porter)
3.)    "Hard" (What Was I Thinking) (produced by Antman)
4.)    "Starter Coat" (produced by Mr. Porter)
5.)    "Wait" (produced by Jake One)
6.)    "Shine Your Light" (Skit)
7.)    "Shine" (produced by Nottz)
8.)    "Lincoln" (Skit)
9.)    "Real" (produced by DJ Khalil)
10.) "Hello" (Skit)
11.) "Misses" (On My Line) (produced by DJ Khalil)
12.) "Dope!" (produced by Pain 1)
13.) "America" (produced by S1)
14.) "Layers" f/ Rick Ross & Pusha T (produced by Mr. Porter)
15.) "Quiet" (produced by Mr. Porter)
16.) "Gottaknow" (produced by Mr. Porter)
17.) "Off" (produced by Mr. Porter)