Chapter 19 shares the 'Mustafa Zulu' instrumental.
Today Chapter 19 debuts on SpitFireHipHop with this new instrumental. Chapter 19 shares this new track titled 'Mustafa Zulu'. The beat serves as a political/social justice art piece for "Mustafa Zulu," who the instrumental is named after.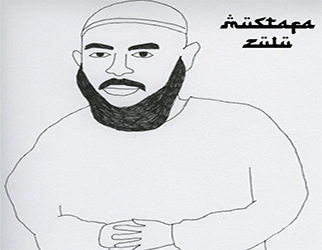 Written By "Mustafa Zulu," The Youngest Inmate Ever sent to ADX Federal Supermax.
"Soon ima go crazy!
and it's up to the World.
America eats its babies.
No matter what yall think of me,
I'm still your child, you just can't turn
me off like that" -Tupac Shakur
Alot has been said and done about youths being incarcerated in adult prison. No one can argue the cruelty of placing troubled-youths (irrespective of the severity of their crimes) in max prisons with harden adult convicts. How much more hideous it is to throw youths in a supermax security prison with the so-called worst of the worst? Those are state prison systems I'm referring too. The Federal Bureau of Prison (B.O.P.) projects a higher standard, yet someone in the B.O.P.'s central office arbitrarily designated me to its new federal super max when I was only nineteen, for an assault on an inmate. The entire torturous two decades I've spent in solitary confinement, I've never once met, nor heard of another person sent there that young which made it all to clear to me that someone had horribly miscalculated, misunderstood and misplaced me.
Back then the B.O.P. did not have in place proper evaluations to determine if an inmate was suitable to be housed in solitary confinement, such as psychological evaluations, etc. which are in place now as the result of major law suits. By anyone's assessment, a 19 year old teenager should never be sent to America's most secure federal supermax dungeon where they boost of the place being "Alcatraz of the Rockies" where they keep the so-called "worst of the worst". How could this happen?
I have no idea, the BOP still gives me vague answers, but the root of this malfeasance has to do with the BOP and Washington, D.C. Department of Correction (D.O.C.) has grossly mismanaged thousands of non-federal D.C. code offenders. For decades they've shipped us hundreds of miles from our residence, scattering us into nearly every country in America.
So back in 1996, before congress woman Eleanor Norton-Holmes to any concerns about where former Lorton prisoners where being housed and treated, DC youth offenders, as myself, languished in supermax units for decades.
Despite my circumstances at that time and the adverse impact solitary confinement has had on my mental and emotional well being, I managed to use that time to work on my inner madness that lead me there in the first place. Without any assistance, I earned my GED, learned two languages (Arabic and Swahili), studied world history, religion, philosophy, art and cultures.
Today, I'm in Atwater, California United States Penitentiary; I'm a grown man now. I'll be 41 years old May 20th. I'm no longer the hot headed youth who acted out without regards to others or the consequence. I've reformed myself, the system didn't reform me, they threw me away. Where there was no hope and I nearly despaired. Education, Faith and self-determination kept me sane, strong and patient through that long dark tunnel.
I can now see light at the end of the tunnel. With the recent passage of the comprehensive Youth Justice Amendment Act of 2016-D.C. Act 21-568 by D.C. legislators, I am hopeful for myself and others.
I wrote this article to tell the world that as a young man, I made an awful mistake, I was locked in a cell for 20 years without hope, I refused to allow my wrongs to define me and changed my life. I was sentenced to 50 years to life for a murder I was convicted of at 16. Men like me deserve a second chance… I'm still your child, you just can turn me off like that.