Maurice Brown connects with Talib Kweli for 'Stand Up'.
Grammy Award-winning trumpet player Maurice "Mobetta" Brown is no stranger to working with some of the most talented musicians in the world. He was mentored by the iconic Wynton Marsalis, arranged the horn section for Tedeschi Trucks Bands' 2011 Grammy award-winning album Revelator, and has played alongside incredible stars such as Santigold, Wyclef Jean, Santana, Lalah Hathaway, Omar and John Legend among many. They call him "Mobetta" for a reason; from a musical perspective, it doesn't get much better than Mo Brown.
Mo's new solo-album, The Mood, (Mobetta Music/Ropeadope) will be released on 3-24-2017 and it features his live band in a studio album that showcases his soulful composition, ambitious production & adventurous improvisations in a seamless blend of jazz, hip hop, soul and sounds from around the world.
"Stand Up" is a call for humanity, to take a stand for something and come together to make a positive difference in the world around us" Mo states.  "We are in a political and economic climate that has been sapping the energy and sense of hope from everyone around us. Inspired by the advice that my father gave me when I was a kid (stand for something or you'll fall for anything), I want to call people to come together, take a stand for a better life & a better world and help one another in whatever way possible, big or small. To collectively be the change we wish to see in the world."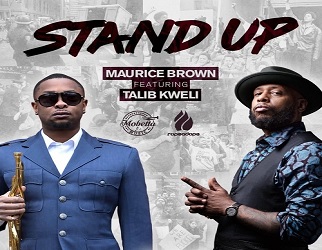 ,music