Dorrough's new album, 'Ride Wit Me' drops on May 19.
Representing the Dallas hip hop movement, Dorrough AKA Dorrough Music, AKA Six 3, has garnered critical acclaim for his organic delivery and personal take with his listeners.  His debut album, Dorrough Music, peaked at #2 on the Billboard hip-hop chart and Durrough has since accumulated over 8 million units sold. While he is best known for his singles "Ice Cream Paint Job" (#27 on Billboard Hot 100), "Walk That Walk", "Get Big", and "Beat Up The Block." Durrough is a true independent music success story, as with the aid of his massive singles, he has held his own against the best of the best major label artists.
A lifelong Dallas Cowboys fan, Dorrough realized a dream at the tail end of 2016, as he announced a merchandise collaboration with his hometown team; the first of its kind in the NFL, this after he created the Dallas Cowboys anthem "Our Time."
Dorrough is back and will release his much anticipated third studio album, Ride Wit Me, on 5-19-17 via Real Talk Entertainment.  Consistent with his past success, Ride Wit Me brings instant party starters, clever punch lines, catchy hooks and trunk rumbling beats that bring the Texas street boom.  Ride Wit Me is a definite must have for loyal Dorrough fans and new fans alike.
Today, Dorrough releases a new single, "Right Now," which is being offered as an instant grat track with the pre-order for Ride Wit Me.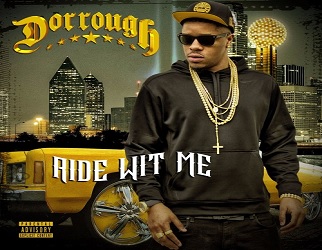 Pre-order Dorrough's
Ride Wit Me
at
iTunes
.
Tracklisting for Dorrough's 'Ride Wit Me':
1.)  "Official"
2.)  "So Anticipated"
3.)  "Top Down"
4.)  "Don't Ask Why"
5.)  "Ride Wit Me"
6.)  "Watch Me Do This"
7.)  "Guns & Butta"
8.)  "Respect Me"
9.)  "Got Damn"
10.)  "Right Now"
11.)  "Take Advantage"
12.)  "Smoke & Lean"
13.)  "Pray"
14.)  "Prime Time Click"