Gorilla Zoe returns with new album 'Don't Feed Da Animals 2' available for pre-order now.
Former Boyz N Da Hood member Gorilla Zoe began his music career in 2005 and first gained mainstream attention after collaborating with fellow Atlanta rapper, Yung Joc; with "Coffee Shop" and "Bottle Poppin'".
Zoe has released three albums and each attained top ten status on the US Rap charts; with his 2009 album, Don't Feed Da Animals, topping the charts.  After much anticipation, the sequel to that chart topping project is finally here–and it certainly was worth the wait.
Don't Feed Da Animals 2 is classic Gorilla Zoe, as it is filled with infectious rhymes and hooks while covering a vast array of themes, from drug dealing, money making, partying and being about that life.  After releasing his first single, "So Many Drugs," Zoe is back with a new single, "Switch, and has offered it as an instant-grat track with the purchase of Don't Feed Da Animals 2.
Gorilla Zoe's Don't Feed Da Animals 2 will be released on May 26 via Real Talk Entertainment/Ingrooves.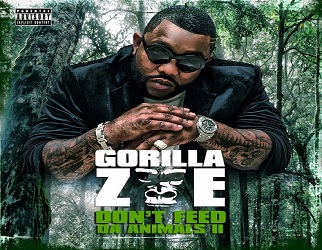 Pre-order Gorilla Zoe's
Don't Feed Da Animals 2
at iTunes and receive "So Many Drugs" & "Switch" as instant gratitude tracks:
https://itunes.apple.com/us/album/dont-feed-da-animals-2/id1216909089
Tracklisting for Gorilla Zoe's Don't Feed Da Animals 2:
1.)  "DABinaire"
2.)  "Come Here Lil Bih"
3.)  "Nino"
4.)  "So Many Drugs"
5.)  "Growth         "
6.)  "Switch"
7.)  "Dede"
8.)  "Atlanta Global"
9.)  "Body"
10.)  "Numb"
11.)  "Juice"
12.)  "Come Here Lil Bih" (Remix) f/ Young Dro