Rowston debuts on SpitFireHipHop with 'History' featuring K-Rino and produced by Sensei Walingh.
Rowston and K-Rino speak on their early days and influences in Hip Hop.  On how important it is to know your history and how the positive elements of Hip Hop culture should be more widely promoted. This single includes an clip from KRS-One at a concert sharing the stage and giving love to everyone. Listen to 'History' below.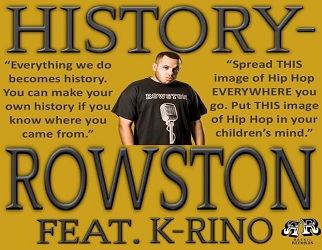 Preset with id 10 does not exist!Main playlist with id 516 does not exist!