Royce Da 5'9 and Tech N9ne tell us about being 'Barely Human' on this single.
Six years ago on August 9, 2011, They teamed up with Royce da 5'9″ to drop the album 'Success Is Certain'. The album debuted in the Billboard Top 10 and became the biggest selling independent hip hop album of 2011. They've teamed up again as a thank you to the fans who made this album so iconic. 22 Entertainment and Bad Half Entertainment present Royce da 5'9″ and Tech N9ne 'Barely Human' produced by S1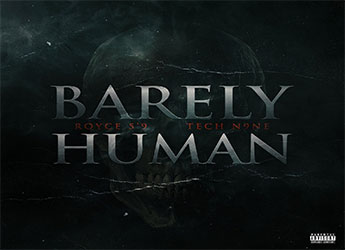 Preset with id 10 does not exist!Main playlist with id 540 does not exist!