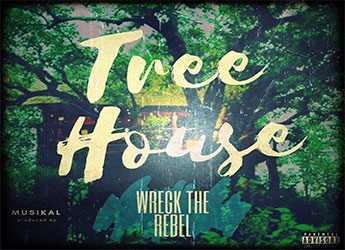 Wreck The Rebel debuts on SpitFireHipHop with 'Tree House'.
Team Kon Quest invites us to once again explore the vivid world created by Wreck The Rebel as we embark on a journey, beyond the cosmos, to the "Tree House"- a realm of escape inhabited by cohorts and colleagues alike.
Produced by Musikal, 'Tree House' is a darkly entertaining and hypnotic perspective on the early life and struggles faced by the California-bred emcee, Wreck The Rebel. Listeners are taken on an incredible audible journey, packed with hilarious punchlines and creative metaphors.