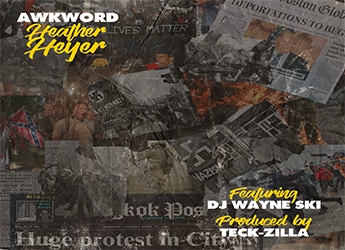 AWKWORD releases his first song in nine months titled 'Heather Heyer'.
'Heather Heyer' is a personal song, as I find myself struggling amidst the madness that has overtaken this country. But "Heather Heyer" is also a political song: it's a BIG Fuck You to Donald Trump and, more importantly, a tribute to Heather, who was run over and killed in Charlottesville.This song is a rallying cry.
You don't have to be a masked member of ANTIFA or Anonymous to know that all of us who want social justice and racial equality here are up against a dangerous and strengthening enemy (Nazi Punks Fuck Off!). As Heather's mom, Susan Bro, said at her daughter's memorial (and as you'll hear in the intro to my song): "They tried to kill my child to shut her up. Well guess what? You just magnified her." 100% of the proceeds from this song will be donated to The Heather Heyer Foundation, founded by Susan to help fund future social justice activists.