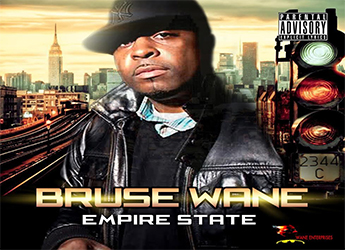 Bruse Wane takes it back to the 'Empire State' with his latest release.
Wane Enterprises CEO and New York artist Bruse Wane presents "Empire State", his new single produced by Dai Dai On The 5th Floor. 'Empire State' will appear on TheBatMan Should Have Been On It, Volume One, a forthcoming mixtape of live flows, mixtape cuts and original tracks from Wane. Wane's most recent album Earl Manigault Of Rap featured the late Sean Price as well as Chris Rivers. Bruse also recently released the music video for EMOR singles "Brighter Days" and "Yuu" .
A native of the Bronxdale Houses Projects in the Soundview section of the Bronx, Bruse founded Wane Enterprises in 2001, hosting events featuring Styles P, Papoose, N.O.R.E, Buckshot and Remy Ma. "I chose 'Empire State' as the first release off the project because I wanted something with a epic and distinct feel," Bruse says. "To me this track just feels like New York Hip Hop, thus the name. I have alot of freestyles on the project but this is one of the original tracks, which I feels sets the tone." Regarding his forthcoming tape Bruse says "you're getting pure Bruse Wane on this, spitting hard bars over classic beats. No features – just Wane." Bruse is currently working on his next album The Dark Knight Album Two.. Fight For Gotham. Volume One of TheBatMan Should Have Been On It drops November 10th, 2017 on Wane Enterprises.