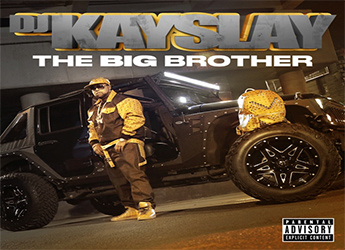 DJ Kay Slay releases new single 'Jealousy' featuring The Game, Tech N9ne and Busta Rhymes.
It's been seven-years since DJ Kay Slay released an album (The Streetsweeper Vol. 1 and The Streetsweeper Vol.2 were both top 10 debuts on Billboard's Hip-Hop Chart), but just like Kay's previous red-carpet events, The Big Brother is star-studded and diverse; including Kendrick Lamar, 2 Chainz, Rick Ross, Mac Miller, Kevin Gates, Tech9Ne, The Game, Dave East, Fat Joe, Busta Rhymes, Raekwon, Scarface, Jadakiss, Juicy J, Jay Rock, French Montana, Ice-T, Nipsey Hussle, Beanie Sigel, Freeway, E-40 and many, many others.
After premiering one of the more anticipated tracks, "Cold Summer," featuring Kendrick Lamar, Mac Miller & Kevin Gates last week with Pitchfork, Kay Slay is back and unveils "Jealousy" featuring The Game, Tech N9ne & Busta Rhymes via an exclusive premiere with Complex. "Jealousy" is a MFer—word to Diddy.