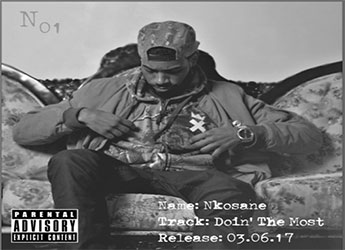 Nkosane debuts on SpitFireHipHop with 'Doin The Most'.
From the heart and soul of the South come another emcee as Nkosane fires us up with the new track 'Doin The Most'. This high energy track does the most by having an energetic yet laidback aura with ethereal vibes yet roller-coaster worthy wordplay. This track will make you think while the production provides a soothing soundtrack to ease your mind.
Calling Harlem home and always reppin', Nkosane brings the humourous but hard-hitting bars that most NY emcees are known to have. His flow seamlessly flows into the hook as he uses vivid imagery to truly paint a picture with his words. This artist's ability to turn an average line into a heavy-weight hit is intriguing as he describes his growth as "stepping out the machine that turned Urkel into Stephon" and describes a less than attractive girl as "lookin like a Klingon". This track really gives us the best of both worlds with the sharp style of Nkos' verses contrasting the slowed and screwed voice on the chorus. Listen below and vibe out to a dope track that goes with every mood and movement.