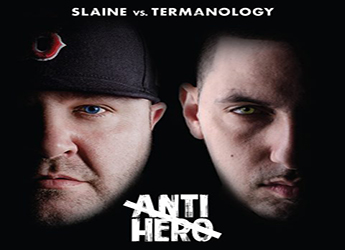 Slaine and Termanology are back with 'Came A Long Way' featuring Conway.
Since the beginning of their respective careers, Slaine and Termanology have been on a seemingly inevitable collision course. Over more than a decade, with each new album or devastating verse, the two New England hip hop heavyweights have continually raised the stakes, providing each other the fuel to push their lyrical intensity and creative output to new heights. As individuals, they helped spark a renaissance of classic East Coast hardcore rap; as a team, joining forces for the long-awaited full-length collaboration LP Anti-Hero this fall, they are cementing their status as battle-tested kings of the underground.
Slaine puts their past relationship in more stark terms: "We were rivals," he says. At the time, Slaine was making his mark as a young, Boston-bred verbal brawler with a raw, uncompromising and darkly funny rap style fueled by personal experience. Meanwhile, Term was a slick-mouthed kid from Lawrence, Massachusetts, armed with a lethal, breathless flow that didn't so much ride over beats as blow them to pieces. "When I started buzzing, [Term] was coming up at the same time," remembers Slaine. "I viewed him as competition."
For this monumental teaming, Anti-Hero contains some of the most personal and unflinchingly honest songs in either emcees' lengthy catalog. Halfway through the recording of the album, Slaine faced up to his struggles with substance abuse and got sober. Suddenly, for him at least, late night recording parties fueled by booze were replaced by sharply focused early morning sessions powered by cups of coffee. "It's two different Slaines that I worked with on this project," said Term. Yet through all the ups and downs in Slaine and Termanology's careers, one thing remains consistent: whether separately or together, these two anti-heroes will never let the other one catch them slipping.
Today, Slaine and Term are back with The Machine, as they premiered 'Came A Long Way' featuring Shady Records newest signee Conway.