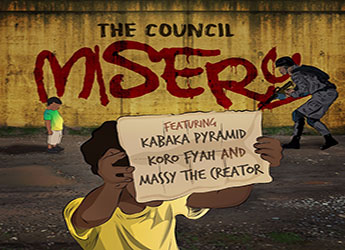 The Council drops off their new single titled 'Misery'.
Kingston, Jamaica's MC supergroup, The Council, has enlisted Reggae's recent stars for its newly available fifth and final single from its album, Nothing Else Matters, scheduled for release on September 29. The new song, titled Misery, features longtime collaborators Koro Fyah, Kabaka Pyramid and Massy the Creator who join the crew for an epic, authentic fusion of boom bap Hip Hop and roots Reggae, laced with social commentary and messages of reparation and repatriation.
'Misery,' produced by Inztinkz, like all other tracks on The Council's album – features poignant and potent verses from Massy the Creator, The Sickest Drama, Kabaka Pyramid and Five Steez, with Koro Fyah delivering the hook, lambasting the system.