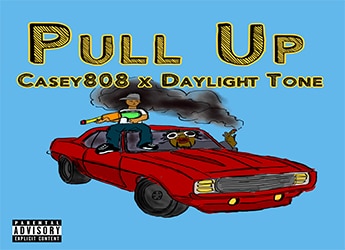 Daylight Tone connects with Casey808 for his new 'Pull Up' single produced by Johnny Juliano.
Daylight Tone, originally from Chicago but currently residing on Hawaii Island debuts on SpitFireHipHop today. The 26 year old spoken word poet turned Hip Hop phenom drops off his latest. He's following up after dropping his debut solo single Speedin' with a white-hot new hit called 'Pull Up' featuring Casey808 and produced by Johnny Juliano.
Daylight Tone comes at you with passion, sauce and of course, what he calls "the daylight" as he boasts his Chicago bred delivery with the tropics of Hawaii and the journey in between. As soon as the beat drops, you find yourself moving without even realizing it. This is assumed, as Johnny Juliano is no stranger in the creation of hits as he has worked with Drake, Wiz Khalifa, Nicki Minaj, and more. Hawaiian artist Casey808 knocks down a solid first verse while Tone turns up the energy for a infectious catchy chorus. As he tap dances melodically over the second verse immediately letting you know the important things in his life like not to smoke Swisher Sweets around him to his aspirations of making a name in the rap world from the Hawaiian Islands, His stock surely rises.
Daylight Tone is set to release his first project "ctrl+alt+dlt" later this year but until then, you can press play on this single.