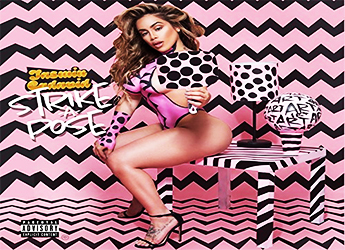 Jasmin Cadavid debuts on SpitFireHipHop with 'Strike a Pose'.
Miami native Jasmin Cadavid shares her new single 'Strike A Pose'. At the age of 16 Jasmin was already on her own and despite the troubles in the past she started slowly becoming an entrepreneur. After graduating high school, she began modeling, attended Miami acting school, went to college, bought her first property at 21, got license in real estate.
She became the first girl in the industry to have her own marijuana strand, 'Jazzy Kush', then founded 'Jazzy Rolling Papers'; an all organic noncancerous glue slow burning rolling paper company, with the first FDA approved PINK colored paper. Since music was always a first love for Jasmin she finally took a step into doing what she always had. After Grammy award winning vocalist, Wanya Morris of Boyz ll Men, started mentoring Jasmin and vocal coaching her, Jasmin has released two single thus far 'Float' and 'Strike A Pose' with an upcoming project on its way.